by Charlie Spiering
Breitbart.com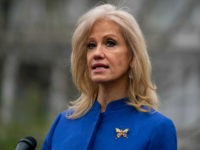 White House Senior Counselor to the President Kellyanne Conway announced Sunday that she would step down from her position to focus her time on her family.
"This is completely my choice and my voice," she said in a statement. "In time, I will announce future plans. For now, and for my beloved children, it will be less drama, more mama."
Conway will still speak at the Republican National Convention this week, a White House source tells Breitbart News. She will reportedly begin the process of transitioning out of the White House at the end of August.
Continue Reading at Breitbart.com…