from Zero Hedge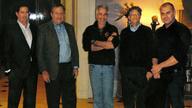 Most of the feature stories published by the Columbia Journalism Review, a mostly-digital biannual "magazine" published and edited by the Columbia School of Journalism and its staff, is sanctimonious media naval-gazing filtered through a lens of cryptomarxist propaganda, written by a seemingly endless procession of washed-up magazine writers.
But every once in a while, just like the NYT, Washington Post and CNN, even CJR gets it (mostly) right. And fortunately for us, one of those days arrived earlier this month, when the website published this insightful piece outlining the influence of the Gates Foundation on the media that covers it.
Most readers probably didn't realize how much money the Gates Foundation spends backing even for-profit media companies like the New York Times and the Financial Times, some of the most financially successful legacy media products, thanks to their dedicated readerships. For most media companies, which don't have the financial wherewithal of the two named above, the financial links go even deeper. Schwab opens with his strongest example: NPR.
Continue Reading at ZeroHedge.com…