The most serious charge tied to the looting was attempted murder
[Ed. Note: Well, Jussie Smollett was charged… So what? Let's see what she does next, after the attention dies down.]
by David Aaro
FOX News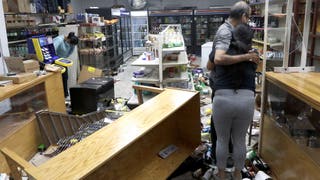 At least 42 people have been charged with felonies following the widespread looting and unrest in Chicago this week, according to Cook County State's Attorney Kim Foxx on Thursday.
Foxx said in a statement that her office is "ready and available" to review these cases and charge suspects "when appropriate."
The charges include 28 for burglary and looting, six for gun possession, five for aggravated battery or resisting a police officer, and one each for theft and criminal damage to property, the office said. The most serious charge tied to the looting was attempted murder.
Latrell Allen, 20, was charged with attempted murder Monday after firing on officers, according to Chicago police.
Continue Reading at FOXNews.com…