by Pam Martens and Russ Martens
Wall Street on Parade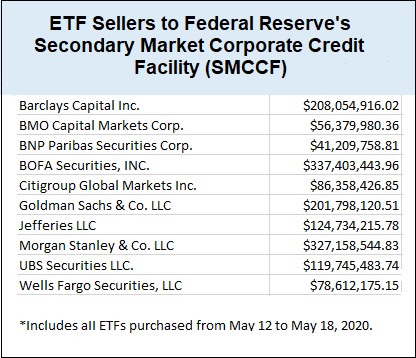 The Federal Reserve has authorized 11 financial bailout programs thus far. Despite Fed Chairman Jerome Powell's reassurances at his press conferences that these programs are to help American families, a full 10 of these programs are actually bailouts of Wall Street banks or their trading units.
The latest Wall Street bank bailout to come out of hiding is the Fed's Secondary Market Corporate Credit Facility (SMCCF). This program was supposed to buy up corporate bonds in the secondary market in order to help corporate bond markets regain liquidity. Thus far, the only thing the SMCCF has bought up are Exchange Traded Funds (ETFs) holding investment grade and junk-rated bonds.
Continue Reading at WallStreetOnParade.com…