by Wolf Richter
Wolf Street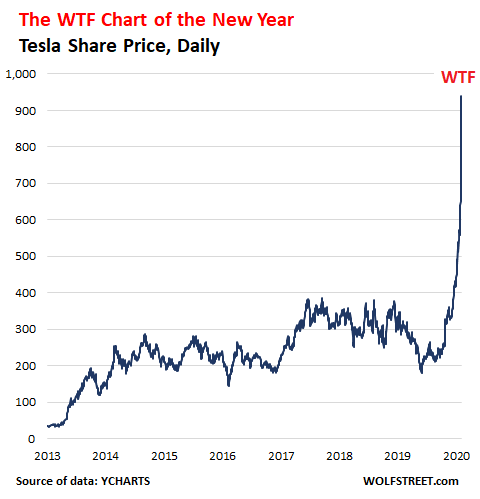 Look, I'm rooting for Tesla, a tiny auto maker shaking up the giants, with its global market share of 0.5% and $862-million loss in 2019. But Tesla gets to have supernatural shares that can go anywhere at will.
OK, I know, nothing matters, fundamentals certainly don't matter, and for Tesla, they never have mattered to begin with, but this is nevertheless quite a spectacle. The other day, I swear, I saw Elon Musk walk on water, strolling on the Bay at lunch time, not far from the factory in Freemont. He's performing miracles on a daily basis.
Tesla's shares [TSLA] closed at a new closing high today of $949.92. This beat the prior closing high of February 19 of $917.42. But it remains a tad below the intraday high of 968.99 of February 4. So let me walk you through this in chronological order because it's just too juicy to pass up.