by Pam Martens and Russ Martens
Wall Street on Parade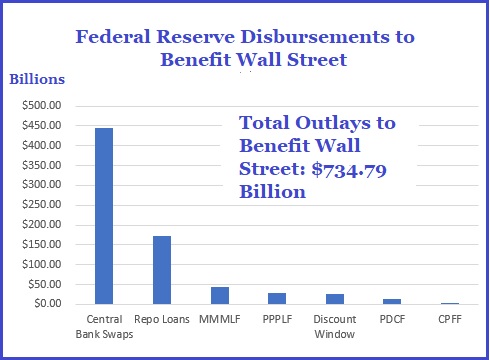 The stimulus bill known as the CARES Act (Coronavirus Aid, Relief, and Economic Security Act) was signed into law by President Donald Trump on March 27. Among its many features (such as direct checks to struggling Americans and enhancing unemployment compensation by $600 per week for four months to unemployed workers so they could pay their rent and buy food) the bill also carved out a dubious $454 billion (or 25 percent of the total $1.8 trillion spending package) for the U.S. Treasury to hand over to the Federal Reserve. This was the Faustian Bargain the Democrats had to agree to in order to get the deal approved by the Wall Street cronies in the Senate.
If you subtract the $454 billion from the $1.8 trillion total spending package, that left $1.346 trillion for other purposes. But the $454 billion wasn't really just $454 billion. It was going to be leveraged up by a factor of 10 to 1 into a $4.54 trillion bailout for Wall Street. This, effectively, meant that the CARES Act provided $1.346 trillion for average Americans and other purposes versus $4.54 trillion for Wall Street. In short, the assistance going to Wall Street was more than 3 times larger than that going to families and workers.
Continue Reading at WallStreetOnParade.com…