by Pam Martens and Russ Martens
Wall Street on Parade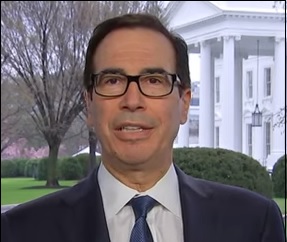 Senate Majority Leader Mitch McConnell and New York State Senator and Minority Leader Chuck Schumer trotted out to the Senate floor after midnight last night to announce that they had reached a deal on the government stimulus package – the text of which the American public has not seen and only snippets of which have been seen by the members of Congress. Neither the Senate nor the House of Representatives have yet to vote on the bill.
Americans got their first whiff that this was going to be another massive giveaway to Wall Street banks, just as happened from 2007 to 2010, when White House economic adviser Larry Kudlow appeared at the White House briefing yesterday evening. Kudlow revealed that the stimulus plan is actually a $6 trillion package — $2 trillion to struggling Americans and $4 trillion to dispense as Treasury Secretary Steve Mnuchin and the Federal Reserve see fit. Since the Federal Reserve has seen fit since September 17 of last year to flood the trading houses of Wall Street with $9 trillion cumulatively in revolving loans, one can reasonably expect that this is where the new $4 trillion will be going.
Continue Reading at WallStreetOnParade.com…