by Pam Martens and Russ Martens
Wall Street on Parade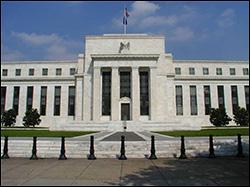 The titular head of bank supervision for the Federal Reserve is Randal Quarles. We use the term, titular, because the job was so amorphous that President Obama never bothered to fill the slot, even though it was legally mandated under the Dodd-Frank financial reform legislation of 2010. Everyone on Wall Street knows that it's the all-powerful New York Fed that "supervises" the behemoth banks on Wall Street.
Last week New York Times' reporter Jeanna Smialek accurately summed up the real job of Randal Quarles, writing this: "In his first 21 months on the job, Randal K. Quarles, the Federal Reserve's vice chairman for supervision and regulation, met at least 22 times with partners at his former law firm, Davis Polk & Wardwell, which represents many of the nation's largest banks." Later in the article, Smialek adds this: "He has talked with Davis Polk more often than other law firms, but executives from Goldman Sachs and JPMorgan have also met with him about 20 times each."
Continue Reading at WallStreetOnParade.com…