by Pam Martens and Russ Martens
Wall Street on Parade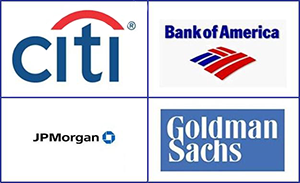 The two greatest periods of wealth inequality in the United States (the 1920s and today) have one critical element in common – there was no Glass-Steagall Act. The absence of the Glass-Steagall Act allows Wall Street banks to use the savings of small depositors across the United States to fuel risky speculation on Wall Street and create the super rich. After the Wall Street crash of 1929 and the onset of the Great Depression, the Glass-Steagall Act became law and put an end to this institutionalized wealth transfer system from the legislation's enactment in 1933 until its repeal in 1999 under the Presidency of Bill Clinton.
Today's banking system is a perfect reflection of U.S. society. Just six banks (one-tenth of one percent of the 6,000 insured-depository banks in the U.S.) control the bulk of total assets while, as Senator Bernie Sanders regularly reminds his audiences, in American society "the top one-tenth of one percent owns almost as much wealth as the bottom 90 percent."
Continue Reading at WallStreetOnParade.com…