by John W. Whitehead
The Rutherford Institute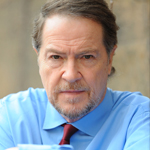 "Our carceral state banishes American citizens to a gray wasteland far beyond the promises and protections the government grants its other citizens… When the doors finally close and one finds oneself facing banishment to the carceral state—the years, the walls, the rules, the guards, the inmates—reactions vary. Some experience an intense sickening feeling. Others, a strong desire to sleep. Visions of suicide. A deep shame. A rage directed toward guards and other inmates. Utter disbelief. The incarcerated attempt to hold on to family and old social ties through phone calls and visitations. At first, friends and family do their best to keep up. But phone calls to prison are expensive, and many prisons are located far from one's hometown… As the visits and phone calls diminish, the incarcerated begins to adjust to the fact that he or she is, indeed, a prisoner. New social ties are cultivated. New rules must be understood." – Ta-Nehisi Coates, The Atlantic
In a carceral state—a.k.a. a prison state or a police state—there is no Fourth Amendment to protect you from the overreaches, abuses, searches and probing eyes of government overlords.
In a carceral state, there is no difference between the treatment meted out to a law-abiding citizen and a convicted felon: both are equally suspect and treated as criminals, without any of the special rights and privileges reserved for the governing elite.
In a carceral state, there are only two kinds of people: the prisoners and the prison guards.