by David Stockman
David Stockman's Contra Corner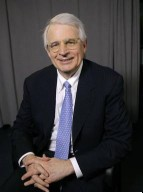 When it comes to the economic future, a Trump presidency could bring either a shitstorm or salvation. Regrettably, the odds of the former are immensely the higher.
That's because Trump is a welcome, but extremely unguided missile. On the one hand, his great virtue is that he is a superb salesman and showman who has captured the GOP nomination and has a serious shot at the White House with absolutely no help whatsoever from the Washington/Wall Street establishment.
So unlike any other candidate in recent memory, he owns his own talking points; is not saddled with a stable of credentialed advisors schooled in three decades of policy error and failure; and has the hutzpah to trust his own instincts——many of which, especially in foreign policy, are exactly the rebuke that Imperial Washington and its legions of parasites and racketeers so richly deserve.
Continue Reading at DavidStockmansContraCorner.com…