by Danielle Park
Juggling Dynamite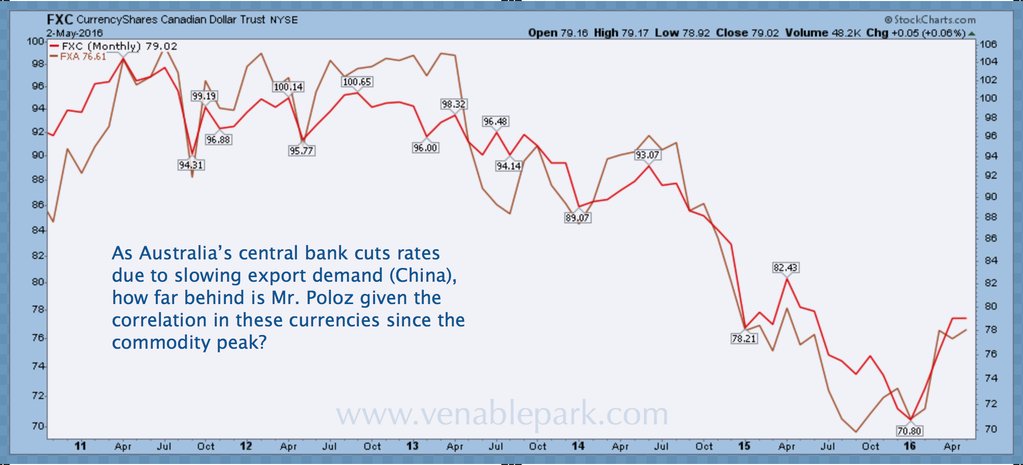 Commodities and commodity-centric currencies like the Aussie and Canadian dollar rebounded sharply as the US dollar Index weakened since February.
[…] The trouble is that the debt-sickened global economy has stalled further in 2016, and so commodity use has being falling as prices rise and cash-strapped producers have even more incentive to pump product onto a world of excess inventories. Not a rosy demand picture. Six years of dumb, desperate central bank policies, have made matters worse.
This morning the Reserve Bank of Australia responded to falling growth and disinflation by cutting interest rates to a record low. The Aussie dollar is down 2% and the Loonie over 1% in early trade so far. The Japanese Yen meanwhile hit a new 52 week high this morning against the US dollar, in a vote that the Bank of Japan is out of options in its quest to force borrowing and weaken the Yen with negative rates. Dumb and dumber. Japan's Nikkei is floundering, down 17% over the past 12 months. Meanwhile England and China both 'shocked' with weak growth reports this morning.
Continue Reading at JugglingDynamite.com…