by Charles Hugh Smith
Of Two Minds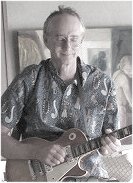 Self-reliance in the 21st century is uniquely challenging because we've become overly dependent on globalization abd financialization.
As things unravel, the one surefire strategy is to chart a course for greater self-reliance. Improving self-reliance has no downside, only upside, and everyone can increase their self-reliance incrementally in small ways.
Self-reliance isn't the same as self-sufficiency. Even Thoreau on Walden Pond used manufactured tools and supplies sourced from afar. The basic idea of self-reliance is to reduce our dependency on long, fragile supply chains and the hamster-wheel landfill Economy of planned obsolescence and waste is growth consumption, and increase what we can do for ourselves and those we care about.
Self-reliance isn't going it alone, it's assembling trusted personal networks as a producer as well as a consumer, as a means of reducing the number of links in your personal supply chain and increasing local sources of life's essentials.