by Pam Martens and Russ Martens
Wall Street on Parade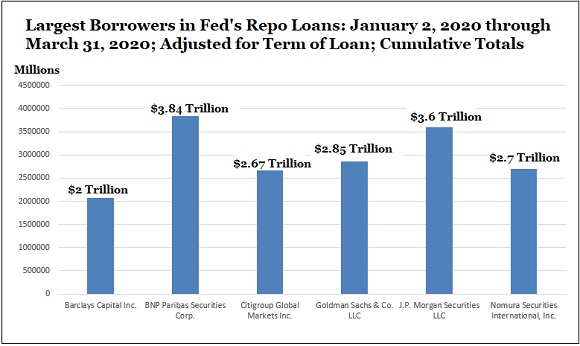 As thousands of businesses were forced to close in the U.S. as a result of the coronavirus outbreak in March of 2020, and millions of Americans were financially struggling, the Federal Reserve was pumping what would become a cumulative $3.84 trillion in secret repo loans into the U.S. trading unit of the giant French global bank, BNP Paribas, in the first quarter of 2020.
The repo loan market is where banks, brokerage firms, mutual funds and others make loans to each other against safe collateral, typically Treasury securities. Repo stands for "repurchase agreement." The Fed only comes to the rescue of this market when there is a liquidity crisis and Wall Street firms are backing away from lending to each other. September 17, 2019 was the first time the Fed had to intervene in the repo market since the financial crisis of 2008 and it was months before the first case of COVID-19 was discovered anywhere in the world.