by Pam Martens and Russ Martens
Wall Street on Parade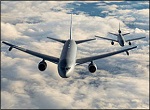 Boeing and JPMorgan Chase are two of the component stocks of the 30-stock index known as the Dow Jones Industrial Average, which is broadly considered to be a barometer of the growth prospects of the U.S. economy. Both companies have been criminally charged by the U.S. Department of Justice in the recent past. (In the case of JPMorgan Chase, it has been charged with an unprecedented five criminal felony counts since 2014.) Both companies were part of badly conceived mergers that headed them toward a culture of corruption.
On January 7 of last year, the U.S. Department of Justice entered into a deferred prosecution agreement with Boeing over a one-count criminal charge of a conspiracy to defraud the United States. Acting Assistant Attorney General David P. Burns of the Justice Department's Criminal Division said this about Boeing's conduct: