by Pam Martens and Russ Martens
Wall Street on Parade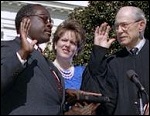 The Washington Post's Bob Woodward and Bob Costa of CBS News have unleashed a fury of renewed interest in the work of the House Select Committee investigating the January 6 attack on the Capitol. Last Thursday, Woodward and Costa set off a political firestorm when they released the contents of emails that Ginni Thomas, wife of the sitting Supreme Court Justice, Clarence Thomas, had sent to President Donald Trump's Chief of Staff, Mark Meadows, in 2020, urging him to overturn the Biden election win and attempting to steer his efforts in that regard.
A total of 29 emails were obtained by Woodward and Costa, with the bulk of the emails occurring in just the month of November 2020, raising questions as to how many more emails are still out there from Thomas to the White House from December 1, 2020 through January 20, 2021 when Biden was sworn in.