by Pam Martens and Russ Martens
Wall Street on Parade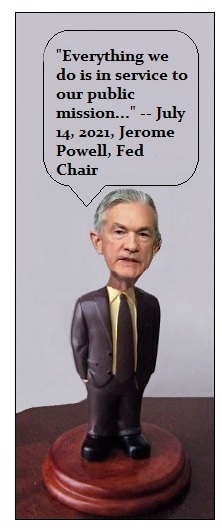 On Monday, the Federal Reserve (which includes no one elected to office by the American people) thumbed its nose at President Joe Biden, the man who received more than 81 million votes in the 2020 Presidential election, representing a 51.3 percent mandate from the American people who vote.
On Friday, July 9, President Biden released a sweeping Executive Order warning federal agencies against actions that create "excessive market concentration" with specific mention of bank merger activity. One business day later, the Federal Reserve…wait for it…approved another bank merger.
The Federal Reserve's actions from January 1, 2006 through the latest data available on June 30, 2020, define the Fed as the quintessential "excessive market concentrator." According to the Fed's own data, it has approved 3,576 bank mergers, while denying zero merger applications, since January 1, 2006. (See data here and here.)