by Pam Martens and Russ Martens
Wall Street on Parade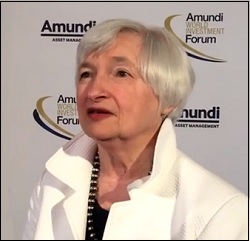 Janet Yellen, the current U.S. Treasury Secretary, is also the Chair of the Financial Stability Oversight Council, which includes every Wall Street regulator. Before coming to the Treasury Department, Yellen was the Chair of the Federal Reserve and had spent the bulk of her working career at the Fed or the San Francisco Fed.
When Yellen was not reappointed as Fed Chair by Donald Trump when her Chairmanship term expired in 2018, she immediately cashed in her chips on Wall Street, collecting millions of dollars in speaking fees in 2019, and undisclosed millions more in 2018. (See Janet Yellen's Cash Haul of $7 Million Is Just the Tip of the Iceberg; She Failed to Report Her Wall Street Speaking Fees from JPMorgan and Others in 2018.)
Yellen was a Federal Reserve Board Governor when she was appointed Fed Chair. Her term as a Governor didn't expire until 2024.