by Pam Martens and Russ Martens
Wall Street on Parade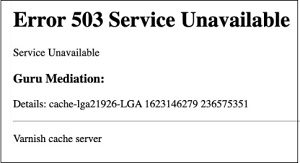 If you're an early riser and like a cup of coffee with online news before officially starting your day, you got your coffee sans the news at numerous websites this morning. From approximately 5:30 a.m. to 6:30 a.m. ET this morning, major news sites like the New York Times, CNN, Financial Times and Guardian U.K. were dark or had error messages.
The sites were not just dark in the U.S. but around the world. According to Fastly, which took the blame for the outages, the disruption impacted major cities across the U.S. and around the world, including Los Angeles, New York, Boston, Chicago, London, Paris, Dubai, Hong Kong, Singapore, Tokyo, Stockholm, Munich, Amsterdam, Santiago, Rio de Janeiro and dozens more.