by Pam Martens and Russ Martens
Wall Street on Parade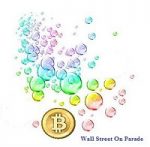 The House Financial Services Subcommittee on Oversight and Investigations, chaired by Congressman Al Green of Texas, will hold a hearing on June 30 titled: "America on 'FIRE.' Will the Crypto Frenzy Lead to Financial Independence and Early Retirement or Financial Ruin?"
The announcement of the hearing came yesterday, the same day that Wall Street On Parade reported that the Federal Trade Commission was witnessing a skyrocketing increase in crypto scams. The FTC wrote on May 17:
"Reports to the FTC's Consumer Sentinel suggest scammers are cashing in on the buzz around cryptocurrency and luring people into bogus investment opportunities in record numbers. Since October 2020, reports have skyrocketed, with nearly 7,000 people reporting losses of more than $80 million on these scams."
The Subcommittee has not yet posted its lineup of witnesses for the hearing. Republicans, who are the minority party in the House at present, can be expected to call at least one of the shills for crypto. Democrats will likely call witnesses from academic and investment circles.