Red Lake district gold explorer Trillium Gold Mines (TSX.V:TGM — OTCQX:TGLDF) will see major newsflow over the next several months shares CEO Russell Starr. He says there is a massive amount of assays pending from completed drilling. The company will also have 3 drill rigs turning on its projects for a total of 34,000m of drilling this year. The drill program is fully funded as Trillium has over C$6M in the bank currently.
Trillium Gold is also targeting a 2,000-metre "lottery card" drill program at its 80% owned Gold Centre project. This close-ology play is just 300 metres from Evolution Mining's Campbell-Red Lake Mine, which has produced 23.8M oz of gold at greater than 16 g/t. The upcoming Gold Centre drill program seeks to show that the Red Lake Mine's gold mineralization continues onto Trillium's property. If successful this would immediately add tremendous value and the project would become the envy of Evolution Mining. CEO Russell Starr believes a suitable comparable to the Gold Centre project is Gold Eagle Mines which sold for C$1.5B to Goldcorp over a decade ago. Trillium's market cap is under C$60 currently.
Click Here to Listen to the Audio
Sign up (on the right side) for the free weekly newsletter.
0:00 Introduction
0:37 Significance of Evolution Mining's acquisition of Battle North Gold Corp.
5:25 Gold Centre drill program is a "lottery card swing"
9:02 Newman Todd drill results and next steps
14:30 Still pursuing acquiring a small gold producer?
16:26 Treasury & massive amount of drill results coming
TRANSCRIPT:
Bill Powers: Thanks for tuning into Mining Stock Education. I'm your host Bill Powers. And in today's episode, we're going to be getting an update from Russell Starr. He's the President, CEO and Director of Trillium Gold, one of our sponsors. And to find more information, you can go to TrilliumGold.com and I'll also put a link in the show notes or above my head on YouTube if you want to listen to my introductory interview, which I did with Russell a couple months ago. So Russell, welcome back onto the program. I thought of you recently when I was going over the mining headlines as Evolution Mining, the biggest landholder there in Red Lake where you are bought out Battle North Gold for over 50% premium over the 20-day volume-weighted average. So what does this mean for you as the second largest property holder there in the Red Lake District?
Russell Starr: Look, it's funny and I try to explain this to people. This is the most stealth gold bull market I've ever seen. It's reflected in majors acquiring juniors. It's reflected in property packages. It's reflected in difficulty in finding space for core shacks. Red Lake is extremely busy and extremely bid. The assay labs are backed up well over a month behind. So while the share prices aren't doing that well, the reality is that the bull stealth market, if I can call it, that is well underway.
And what you're seeing with Battle North being acquired by Evolution. And this can only be sort of my opinion. You never ever get a chance to really spend an hour with a CEO where they tell you exactly what was running through their minds. But there were a couple of things. One is Battle North had a lot of tax losses, which from a tax perspective is always beneficial. But in my opinion, this is more of a reflection of the recognition that Evolution is going to have to start mining lower grade gold to maintain their production profile.
And if you recall, Red Lake is notoriously famous for 15 to 20 gram per ton material. And we see that all throughout our Newman Todd and Rivard property, but that doesn't last forever. And as you've seen globally, finding those high grade deposits becomes harder and harder and harder. And so I believe this was more a reflection of they need another mill, which they got. They got another 800,000 ounces at about five or six grams per ton, which is really sort of right on the threshold of being economic from an underground perspective, but they got all the infrastructure as well.
And so in my opinion, I think this is a recognition of look, Red Lake has tons of gold mineralization. It truly is one of the most prolific mineralized from a gold perspective jurisdictions I think in the world now. You've seen that with the Dixie discovery, but it's understanding that we're going to have to go a little bit down grade spectrum to maintain our production profile. But it really truly puts Trillium right in the cross hairs for a lot of Red Lake players, because A. Our valuation is exceedingly low.
I think what happened was some of the funds that participated in the $1.70 financing maybe were faster money perhaps or they just wanted to switch out into another sector, which is what you've seen across the spectrum, right? It's people chasing crypto returns, cannabis return, psychedelic returns. But a company like Trillium with a dominant land package that it has with the advanced exploration that it has at Newman Todd, and then through that wildcard at Gold Centre becomes very, very appealing to the likes of maybe Battle North, maybe Pure Gold, maybe Evolution, or maybe somebody wants to come into that jurisdiction and create a little bit of angst.
And so, you know what we're doing in the background, it's really difficult as a CEO because you almost view the share price as a reflection of your efforts. And that's not really the case. We have two drill rigs turning at Rivard, one at Rivard, one at Newman Todd, and then we're going to have a third drill rig turning. And we've got six and a half million bucks in the bank. So we're well-funded to actually execute on our 40,000 meter drill program.
It's just right now it seems like no one wants to believe in what the gold market could be, despite the fact we're almost at $1750 gold and hopefully going much higher. So I chewed on a lot of things there, but I'm very happy with our position. We have a ton of assays coming from the assay lab and we have some in my opinion, world-class exploration properties that we're just getting started on.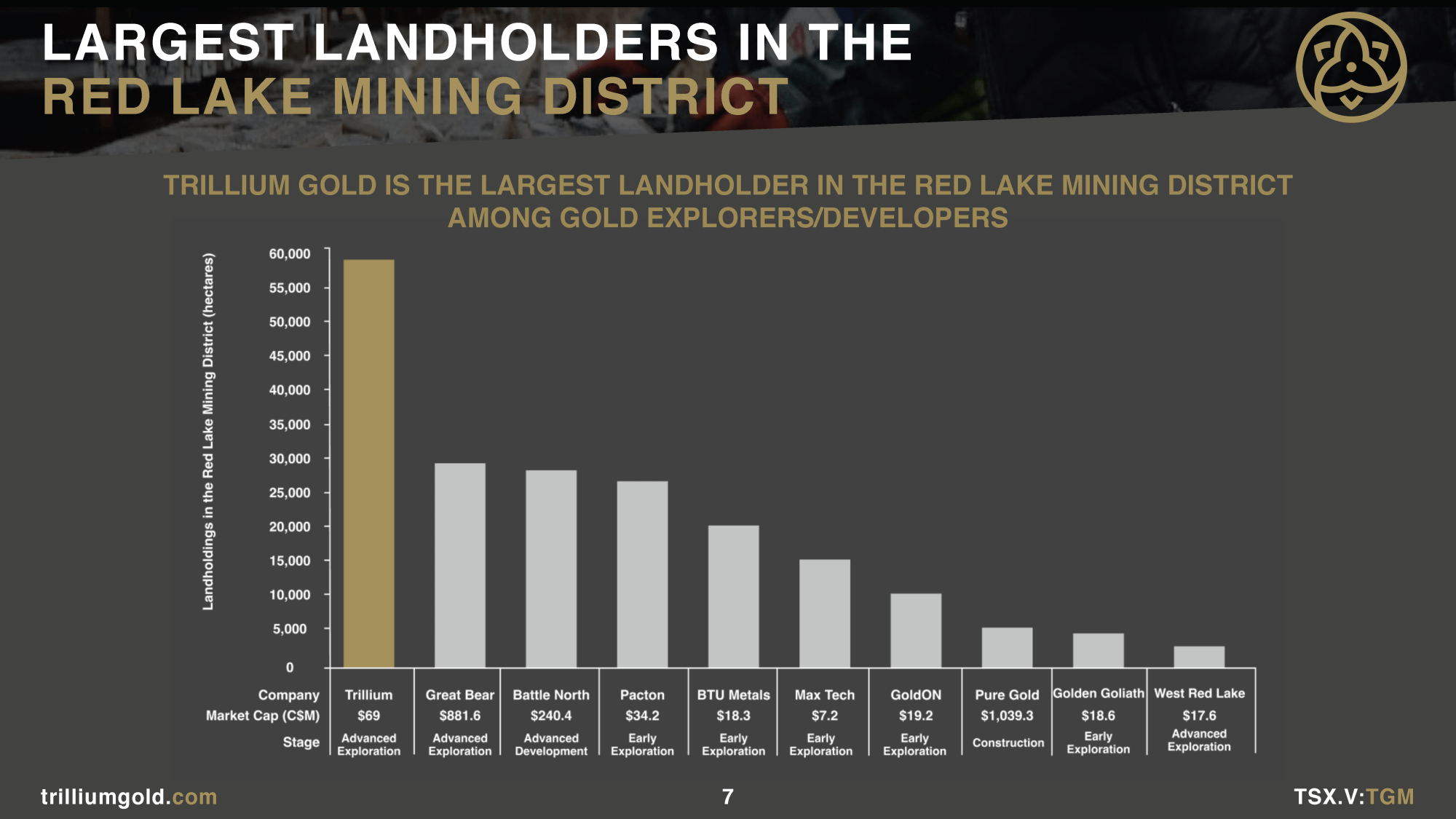 Bill Powers: Newman Todd is your flagship and you had some results come in. I want you to touch on that. But before we do, could you talk about Gold Centre? Because this one here if you hit here, remind us what's at stake here. And if you hit here, what it can mean in terms of market capitalization instantly.
Russell Starr: So Gold Centre is immediately adjacent to the Red Lake Mine. It's 350 meters by property boundary away from where Evolution is drilling and exploring and mining. And if you go to our presentation, you'll see the slide that depicts it almost perfectly. The Red Lake, the world famous Red Lake Mine, 15.6 million ounces. That's greater than 15.6 grams per ton is our neighbor. And that entire infrastructure trends onto our property. It's never been tested. We're getting zero value in our company for it.
But if we hit, it's immediately valuable to Evolution. They're the logical only buyer, because it would just mean them extending their mine infrastructure 350 meters into the continuation of the mine. They're already mining. So it's a really simple thesis. It's just that it needs to be tested and it never has. So we're in the midst of preparing our drill program. We've mobilized a drill rig. We're getting ready to start on it. And that would be our third drill rig turning.
But in my opinion, if we hit there, the only analogy I've given in the past is Gold Eagle, which traded for $1.5 billion to Goldcorp. Clearly we're not, despite the fact we're in a much higher priced gold environment, we're not in as big of a gold market. So I'm not suggesting that it's going to trade for 1.5 billion, but it's clearly going to trade for more than zero, which is what we're getting in our share capital right now.
I call it the lottery card swing. We'll spend our two million bucks and if we hit, it's game on. And if we don't, maybe we do one more swing. I don't know. I'm going to rely on our geologists to do that. And you got to remember that our geological team has call it close to 200 years of experience in the Red Lake area. So if anyone's going to do it and do it right, it's going to be us.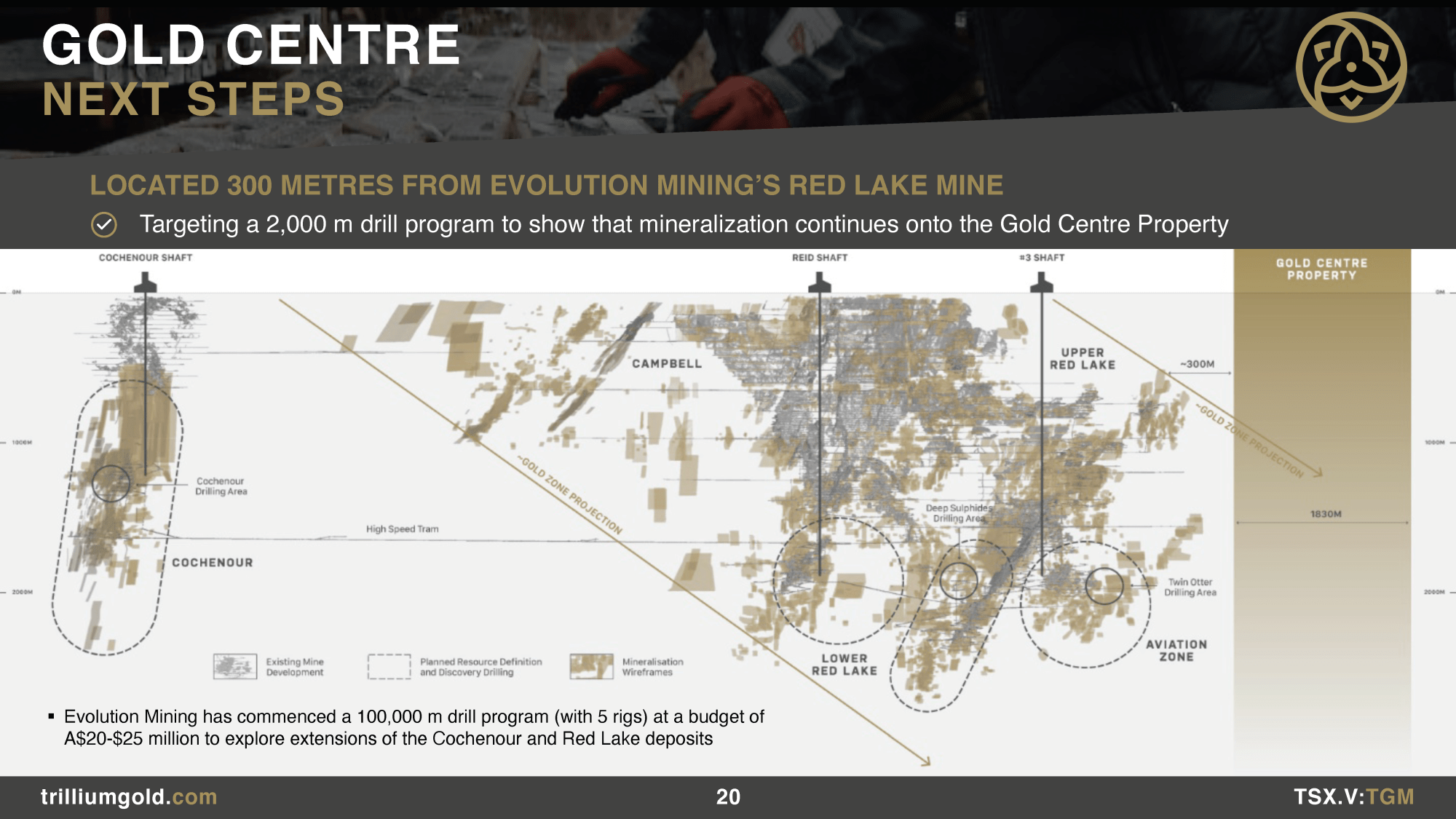 Bill Powers: Are you going to be drilling from underground in Evolution's mine or from surface?
Russell Starr: We're going to drill from surface. If you think about it just from a chess piece perspective, we would've had to give away a lot to access their infrastructure and drill from it, and who knows what that would have been. Right now, I think we're better off testing it. Maybe if we hit, we get into some sort of another situation, but the good news is we have two potential targets. One is a deep target, and one is a shallower target. And we're going to start with the shallower.
And we've hired actually the individual who was doing the drilling for Rupert back in 2006. So our hope is that the drill casings are stable enough that when we do decide to go deep, we can actually just drop a drill right down the historical casing. And then once we get to the volcanic where they stopped, we could continue on and that would save us a lot of money as well.
Bill Powers: And your geological team we should know is friends or has connections with Evolution Mining. You noted in the first interview, right?
Russell Starr: Yeah. I mean, everyone knows everyone and Bill Patterson who runs our team is, I don't want to call him old, but he's long in the tooth in terms of being up in Red Lake. He lives there. Everyone knows everyone. There's family connections. Everyone knows everyone. So it's a small community, right? You have to remember Red Lake is a very small community. So I'll leave it at that.
Bill Powers: Newman Todd, your flagship. So you got now all the assays back. There was a backlog. So maybe you could give us an update on what's going on with the assay labs and then walk us through these recent results, please.
Russell Starr: Well, look, the recent results actually really aren't recent. They're from 2020. They're three, four-months-old.
Bill Powers: Recent to you.
Russell Starr: Yeah, yeah. We didn't have the benefit of having our new model at that time. And we were targeting high and we hit some high grade, which is good. Really truly, the assay results that we're all sort of sitting on and really anxious about is a fan that we've done in between Newman Todd and Rivard. Now that we have a geological model that that seems to be holding up, which we have on our presentation online. And we understand better that it looks like it's the Rivard veins when they encounter those East West fault structures, one of which is right underneath that sort of mini bog/really shallow lake on our property. You're seeing a lot of high grade. And so we're testing the continuation of that in-between Rivard and Newman Todd.
And if we're successful with that, it means we're actually going to be able to target high grade, which in a nutshell in our opinion will give us the ability to not just have an open pit opportunity, but also an underground opportunity. Because when you can chase the high grade, you can drive your economics. So effectively what's happened is we've gone from, "Newman Todd is great" to, "Wow, Newman Todd is not only great, it's going to be some sort of an open pit scenario."
We firmly believe that you're looking at an open pit mine here to start and now we're trying to derive the opportunity to underground. So we drilled one hole right underneath the lake, which is where if you remember sort of the Newman Todd mineralized halo. Right underneath the lake, there was a gap on where it didn't show any mineralization. We've got a relatively deep hole there that we believe we've seen some great textures in the drill hole that I think is going to basically join that sort of peanut-looking shape together.
And then the big one is can we chase those Rivard veins? And we believe we can. And I can tell you we've seen lots of VG (visible gold) and that's always a very good sign. And it's just a matter of seeing it turned around from the assay lab. And so to your question, literally what happened was everybody got financed in the summer. Everybody turned to drill rig and then everybody put their assay labs into the assay labs, and you're seeing it across the space.
We found out a very quick solution to that and we're now seeing those assay results. I have a call actually right up after this one to run through where we sit. But in my opinion, you should see all of those results that I was just referring to coming out within the next week or two weeks, which should give the market something to really chew on versus sort of this quiet period that we've had to suffer through.
Bill Powers: And then after you get those results, you interpret them and then plan out. I believe you got 40,000 meters still to go this year. Is that right?
Russell Starr: Yeah. So, well, so we've done about six. So call it 34,000, but again what's interesting with Red Lake is some of the drill holes are they go quite easily, but when you're in the actual Newman Todd structure, it's a massive breccia upon breccia upon breccia. It can be a slower turnaround just because you're going through so many drill bits because the rock is so hard. But when we're drilling outside of Newman Todd, which is where this fan is, you're that you drill a little bit faster and you get your assays turned around a little bit quicker.
So the key for us and if I could just simplify is when you're looking at an open pit, you want to be able to effectively mine as much of your global resource as possible. And a global resource is just sort of that grade shell envelope. And the further you can pull the pit wall out, the easier it is to access all of the global. And so what we have the benefit of is Rivard, which is our neighbor effectively showing us where to go. Because all of those veins, you go to the slide on our website, all of those veins are VG carrying. And so you can see them trending on surface at Rivard, and you can see them mineralizing the Newman Todd structure at least that's our belief of what's happening.
And you got to remember back in 2013 when Newman Todd had that $200 million valuation, they just kept drilling high grade, high grade, high grade, but they didn't own Rivard. So they didn't have perhaps the appreciation or the understanding that we do with the Rivard veins and the direction that they're trending. And so it's a brand new thesis for the project. And if it works out, you get a situation where not only can you basically expand the pitfalls, but you get access to more and more and more and more mineralization.
And so that's what we're trying to embark upon. And one of our goals is once we get to sort of that, I think I mentioned this before, once we feel that we're somewhere around 1.5 or even higher, then we're going to hope to surprise the market with something pretty substantial. So it's all a process. Investors are not patient in the gold sector right now. It's almost being traded, get in, get out, get in, get out. But I do see a world where hopefully in the next six to 12 months, you've gotten gold back up above $2000 and people are chasing the gold market. And we'll be near the top with our land package with Newman Todd with Gold Centre.
Bill Powers: About two months ago when we spoke, you mentioned you were pursuing a small production outfit to possibly fund further exploration. Any updates there you can give us?
Russell Starr: Look, at a different share price we'd probably consider that, but you have to look at it like everything is always moving in our industry. That's something that obviously would be every junior's goal. So at the right price, we're always looking for that. It's just ours and a lot of the market's share prices fell out of bed over the last two months. People just literally pulverized the gold sector. So our job now is to get as much information out, get our share price much more robust. If you do it on a fully diluted basis, X our cash, we're at a $44 million market cap, and Newman Todd at a $200 million valuation in 2013.
It's pretty crazy how unreflective our share price is to the value of what sits in Newman Todd, I guess, is a good way of putting it, but we also have everything else. Our job is to create more value and then revisit those opportunities. So I'd never say no, it's just you don't want to do a merger of equals where you're not merging as equals. And with that market cap and the value that is not being reflected in our stock it just wouldn't be prudent as a CEO to do something like that, that dilutive at this share price.
Bill Powers: And you've been putting your money where your mouth is. I see you've been buying in the open market also.
Russell Starr: Yeah. No, I think over the last month I've probably bought 75,000 or 80,000 shares. I think every CEO should do that. I don't understand why they don't. If you're going to be the CEO of a company, you should believe in it. So I am putting my money where my mouth is and I believe there's huge value in Trillium at the share prices, huge value.
Bill Powers: One more question. Treasury, what are we down to? About six million dollars? Is that right right now?
Russell Starr: Six and a half, I believe. And maybe at the end of this month, it'll be 6.2 or 6.3. One thing I should mention is we have a massive amount of drill results coming here. So you're going to see just tons of information hitting the market. And we will be starting up on our exploration program on the Confederation Belt as well. So I've always said to people, one of the first things I did when I started was I looked at what Dixie has discovered on a belt that previously was viewed as a VMS belt. And I wanted to own as much of that belt as possible. And that's what we embarked upon and quite frankly, I would look to do more.
Because all of the sudden, you've, you've got the Confederation VMS belt with the potential to host massive amounts of gold and Dixie's proven that up. So if I was an investor, I mean, I think the bread and butter is 40,000 meters of drilling, but we're going to have a pretty substantial exploration program underway on that Confederation Belt as well. And who knows what it'll find. Prosper Gold found some golden tills and I think tripled or quadrupled on that. So we will hopefully be delivering a lot of information to shareholders very near-term.