by Charles Hugh Smith
Of Two Minds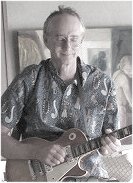 The mutually reinforcing crises aren't in the future, they're here now, and Jay Powell's shuck-and-jive has lost its magical powers to cloak the rot with speculative bubbles.
How many more times do we have to watch Jay Powell claim his speculative bubble isn't a bubble, and that his massive expansion of billionaires' fortunes will magically create jobs for all those living in the real world he's created of stagnation, social depression and inequality?
In other words, when will this travesty of a mockery of a sham finally implode? When will the Universe tire of the lies, fraud, embezzlement and corruption and bring the whole rotten charade down? When will we tire of the stale tale of reflation, told by an idiot, full of sound and fury, signifying nothing?
We all know the Status Quo's response to the global financial meltdown of 2008 has been a travesty of a mockery of a sham–smoke and mirrors, phony facades of "recovery", simulacrum "reforms," serial bubble-blowing and politically expedient can-kicking, all based on borrowing and printing trillions of dollars, yen, euros and yuan, quatloos, etc. and funneling them to financiers, corporations, monopolies, cronies and billionaires.