by Pam Martens and Russ Martens
Wall Street on Parade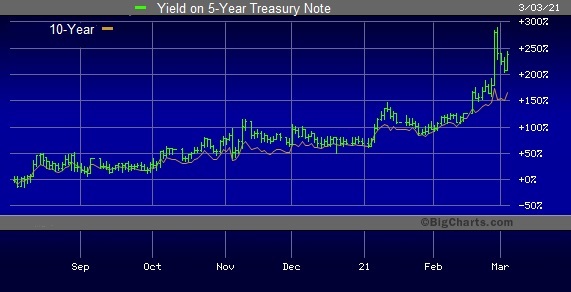 Pull up a chair and get comfy. You're about to watch the first act in what is likely to be a long-running show called "The Great Tech Wreck of Zero-Dividend Stocks." The show's sponsor is rising yields on U.S. Treasury notes which make tech stocks that have ballooned in price (as the Fed held interest rates artificially low) and pay no cash dividends to compete with the rising yields, particularly unattractive.
As the chart above indicates, yields on the 5-year and 10-year U.S. Treasury Notes have been rising sharply since early August, with the yield more than tripling on both. The 10-year Note has moved from 0.50 percent since early August to 1.46 percent early this morning. In the same span of time, the yield on the 5-year note has spiked from 0.20 percent to 0.72 percent.