by Mac Slavo
SHTF Plan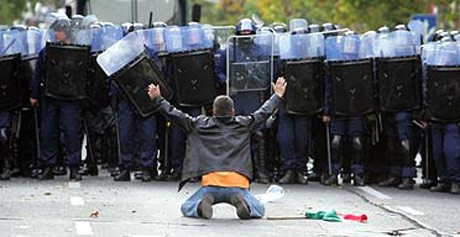 Against the dictate of the French ruling class, many have decided to live freely in the wake of more draconian COVID-19 restrictions. Because of this, the masters of the country have called on their "enforcers" to make sure the slaves continue to comply with their edicts.
Members of the French ruling class have vowed to increase their enforcement presence on the streets this weekend as they struggle to enforce a 6 pm-6 am curfew on those willing to live freely during attempts at further enslavement. The masters claim they need the slaves to comply amid soaring Covid-19 infections across the country and in the capital, according to a report by RT.
"If the police find groups of people in which respect for social distancing cannot be guaranteed, in particular on the banks of the Seine and in public parks and gardens, they are instructed to proceed with their evacuation," the Paris police department confirmed on Friday, as it announced the mobilization of 4,400 officers this weekend. The police also urged people to ensure they reduce their social contacts to a maximum of six people and avoid any travel outside the Paris metropolitan area in order to prevent spreading the virus to other regions exert control and keep those pesky slaves that want to be free in line.