by John W. Whitehead
The Rutherford Institute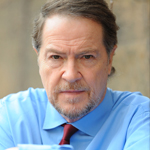 "Americans deserve the freedom to choose a life without surveillance and the government regulation that would make that possible. While we continue to believe the sentiment, we fear it may soon be obsolete or irrelevant. We deserve that freedom, but the window to achieve it narrows a little more each day. If we don't act now, with great urgency, it may very well close for good." – Charlie Warzel and Stuart A. Thompson, New York Times
Databit by databit, we are building our own electronic concentration camps.
With every new smart piece of smart technology we acquire, every new app we download, every new photo or post we share online, we are making it that much easier for the government and its corporate partners to identify, track and eventually round us up.
Saint or sinner, it doesn't matter because we're all being swept up into a massive digital data dragnet that does not distinguish between those who are innocent of wrongdoing, suspects, or criminals.
This is what it means to live in a suspect society.