from Zero Hedge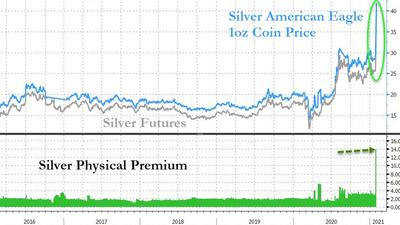 […] As we noted over the weekend, online bullion dealers saw such huge demand for silver ahead of today's moves as 'Reddit-Raiders' prepared to take aim at the precious metals markets.
Sites from Money Metals and SD Bullion to JM Bullion and APMEX, all halted sales amid the unprecedented demand.
[…] Over the weekend, Tyler Wall, the CEO of SD Bullion wrote the following (emphasis ours):
In the 24 hours proceeding Friday market close, SD Bullion sold nearly 10x the number of silver ounces that we normally would sell in an entire weekend leading to Sunday market open.