by Hannah Bleau
Breitbart.com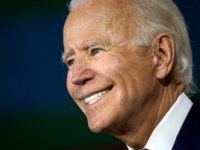 President Joe Biden, during Tuesday evening's CNN town hall, provided a rough timeline on when he believes the United States may be able to return to a level of pre-pandemic normalcy, identifying "next Christmas" as a potential marker.
"When do you think this pandemic is — I mean, when are we — when is it going to be done? When are we going to get back to normal?" CNN's Anderson Cooper asked Biden, who explained that experts have warned him to refrain from making such predictions.
"They tell me, be careful not to predict things that you don't know for certain what's going to happen because then you'll be held accountable. I get that," Biden said, adding that he has hope that the vaccines will continue to "diminish" the spread of the disease, creating herd immunity.