by Pam Martens and Russ Martens
Wall Street on Parade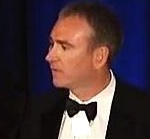 The tentacles of Ken Griffin's Citadel octopus were involved in multiple ways in the GameStop saga that will get a hearing this Thursday before the House Financial Services Committee. Griffin has been called to testify along with others.
GameStop is the brick-and-mortar video game retailer whose stock soared from $18.84 on December 31 of last year to an intraday high of $483 on January 28 – a breathtaking run of 2,465 percent in four weeks – before plunging back to earth. It closed on Friday at $52.40.
The hearing has been called to understand the relationship between all of the parties that played a pivotal role in the wild trading activity, which made fortunes for some big players while leaving others licking their wounds from what has the appearance of a pump and dump scheme.