from Zero Hedge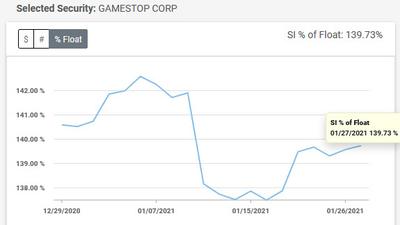 We have some bad news for GME shorts.
Despite the posturing that this or that hedge fund has covered its Gamestop exposure, new shorts have simply taken their place, and as Ihor Dusaniwsky, head of S3 Partners which provides daily short interest tracking in real-time notes, the short interest – after all the recent fireworks – is still a whopping 139.7%…
$GME short int is $10.64B; 71.88M shs shorted; 139.73% of Float; 58.29% S3 SI% Flt; 38% fee & rising. Shs shorted up +1.61M shs, +2.30%, over last 30 days & up +787K shs, +1.11%, last week. Shorts down -$23.82B in 2021 mark-to-market losses; down -$14.52B on today's +137% move. pic.twitter.com/950IgjofyQ
— Ihor Dusaniwsky (@ihors3) January 27, 2021
… which is actually the highest print in the past few days!