by Pam Martens and Russ Martens
Wall Street on Parade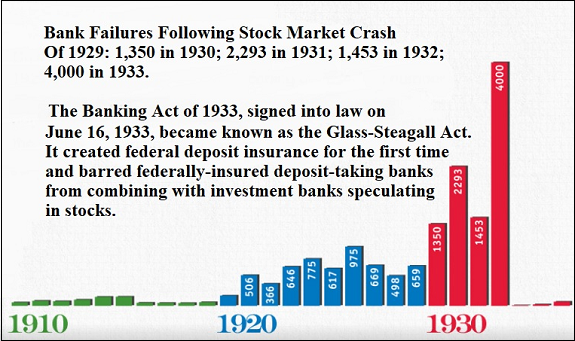 Following the stock market crash in 1929, more than 9,000 banks in the United States failed over the next four years. In just the one year of 1933, more than 4,000 banks closed their doors permanently as a result of insolvency.
The 1930s banking crisis came to a head on March 6, 1933, just one day after President Franklin D. Roosevelt was inaugurated. Following a month-long run on the banks, Roosevelt declared a nationwide banking holiday that closed all banks in the United States. On March 9, 1933 Congress passed the Emergency Banking Act which allowed regulators to evaluate each bank before it was permitted to reopen. Thousands of banks were deemed insolvent and permanently closed. It is estimated by the Federal Deposit Insurance Corporation (FDIC) that depositors lost $1.3 billion to failed banks in that era. That would be approximately $25.5 billion in today's dollars.
Continue Reading at WallStreetOnParade.com…