by Pam Martens and Russ Martens
Wall Street on Parade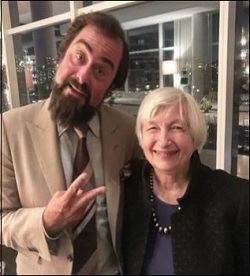 On December 29 we needed a clarification from former Treasury Secretary Larry Summers about his opinion column against Congress issuing $2,000 stimulus checks. We sent him an email at 10:13 a.m. and received a very clear response from him directly at 12:51 p.m. that day — a span of a few hours.
Compare that timely response to Janet Yellen's respect for the media's obligation to report a full set of facts to the American people. Three days ago, we contacted Yellen at four different entities with which she is affiliated. Only the Brookings Institution responded, saying she was on leave. President-elect Joe Biden's media team did not respond at all, nor did the Washington Speakers Bureau and University of California, Berkeley.
Yellen is Biden's nominee for U.S. Treasury Secretary. In anticipation of her Senate confirmation hearing, she has released her financial disclosure forms which showed a windfall of more than $7 million in speaking fees since she left her position with the Federal Reserve. The bulk of that money came from Wall Street firms, which are variously regulated and bailed out by the Fed.
Continue Reading at WallStreetOnParade.com…