by Charles Hugh Smith
Of Two Minds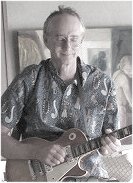 The Fed has a binary choice: preserve America's global hegemony or further enrich the billionaires. You can't have both.
The Fed will fail as a result of two dynamics: diminishing returns and the U.S. dollar's role as a global reserve currency. The Fed's reign as the godhead of financier-banker supremacy has been fun and games for the past 12 years of stock market euphoria, but that's about to change.
All those expecting the Fed to sink the USD to near-zero to "save the stock market" don't seem to realize that they're also expecting the U.S. to surrender its global hegemony, which rests entirely on the U.S. dollar. The USD is the world's dominant reserve currency–please examine the chart below. The USD dwarfs the next largest reserve currency, the euro. The Chinese yuan–due to its peg to the USD, essentially a proxy for the USD–is a tiny sliver of global reserves.
The owner of a reserve currency can create "money" out of thin air and trade it for autos, oil, semiconductors–real-world goods that were not created out of thin air. All these real-world goods required tremendous investment and significant costs to be produced and transported.