by Charles Hugh Smith
Of Two Minds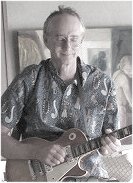 Is that a red flashing light on the control panel of "the man behind the curtain"?
Among the many "interesting" (a safe word to use in perilous times) signs and portents swirling around us, here are five financial tidbits "of interest." What do they mean? The answer is of course nothing. There are many "interesting" things with no discernible meaning. Being "interesting" is enough.
1. Just like in 2000, proponents claim "this time it's different." Back then, the claim was that since the Internet would be growing for decades, dot-com stocks could go to the moon and beyond.
The claim the the Internet would continue growing was sound, but the prediction that this growth would drive stock valuations into a never-ending bubble was unsound.
Once again we hear reasonable-sounding claims being used to support predictions of a never-ending rise in stock valuations. Some observers find this "interesting."