by Pam Martens and Russ Martens
Wall Street on Parade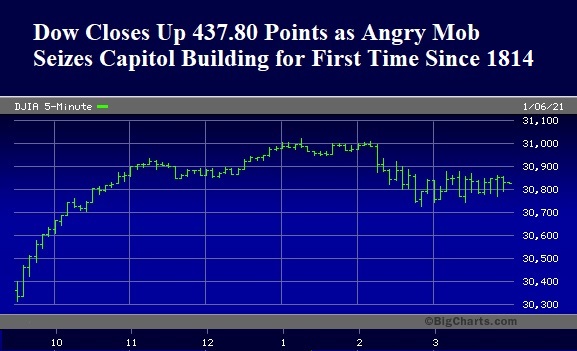 As a violent mob of Trump's citizen militia scaled walls, broke windows and seized control of the Capitol building yesterday around 2 p.m., the Dow Jones Industrial Average set a new intraday high of 31,022.65. It gave up very little by the 4 p.m. close, gaining 437.8 points on the day.
The Trump operatives were attempting to stop Congress from confirming President-elect Joe Biden's electoral win. Dressed in paramilitary clothing or jeans and red MAGA hats, the mob overpowered the Capitol Police inside and outside the building, gaining access to both Senate and House chambers and lawmaker offices, including the office of the Speaker of the House, Nancy Pelosi.
Jamie Stiehm, a US political columnist, was inside the Capitol building and reported the following for the BBC: