by Steve St. Angelo
SRSRocco Report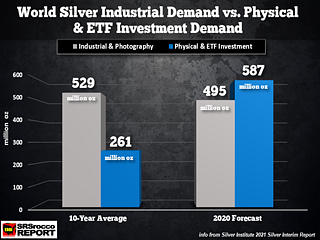 U.S. Silver Eagle sales this year are RED HOT pushing total silver investment demand to record highs. According to the U.S. Mint's most recent update, Silver Eagle sales in 2020 have surpassed 30 million and may continue to increase over the next few weeks in December. Also, for the first time ever, total silver investment demand exceeded industrial demand by a wide margin.
So, for the analysts who continue to harp on "Industrial Demand" as an important factor for the silver market to focus on in the future, I say… RUBBISH. And, if you have been reading my analysis for several years, I've stated over and over again, that industrial demand will become less of a driver of the silver price in the future.
Thus, when I read the Zerohedge article today, Saxo Bank, 2021 Will Be A "Reality Check On Extend-And-Pretend" – Saxo Bank Unveils Its 'Outrageous Predictions' For The Year Ahead, quoting the following about silver in 2021.
Continue Reading at SRSRoccoReport.com…