from Zero Hedge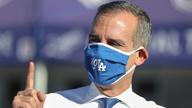 Echoing the situation back in March when California was the first state to issue a 'stay at home' order, the Mayor of Los Angeles late last night ordered Angelenos to stay home, warning that the city is approaching a "devastating tipping point" as the US and the state of California see unprecedented numbers of new cases, deaths and hospitalizations.
Last night the state of California reported more than 20k new COVID infections, the highest daily tally of any state. LA County has been particularly hard hit.
"Our City is now close to a devastating tipping point, beyond which the number of hospitalized patients would start to overwhelm our hospital system, in turn risking needless suffering and death," Mayor Eric Garcetti said late on Wednesday. "We must minimize contact with others as much as possible," he added.
Continue Reading at ZeroHedge.com…