by Pam Martens and Russ Martens
Wall Street on Parade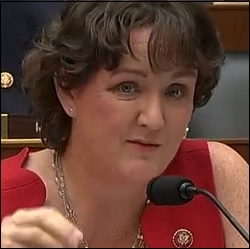 Sparks were flying throughout yesterday's House Financial Services Committee hearing. After Fed Chair Jerome Powell and U.S. Treasury Secretary Steve Mnuchin appeared before the Senate Banking Committee on Tuesday, they were grilled for 2 more hours yesterday by members of the House Financial Services Committee. The atmosphere was far less cordial than the prior day, which wasn't exactly tea and crumpets either.
There was good reason for the hostility. For the second time in a dozen years, another former Goldman Sachs banker holds the reins at the Treasury Department as it bails out Wall Street while crushing Main Street businesses and American families. This time it's Mnuchin rather than Hank Paulson, who served as Treasury Secretary under George W. Bush during the financial crisis.
Before we get into the guts of yesterday's hearing, it's important to have the background on how Wall Street was bailed out and Main Street was sold out the last time around – as the parallels are downright eerie.
Continue Reading at WallStreetOnParade.com…