by Pam Martens and Russ Martens
Wall Street on Parade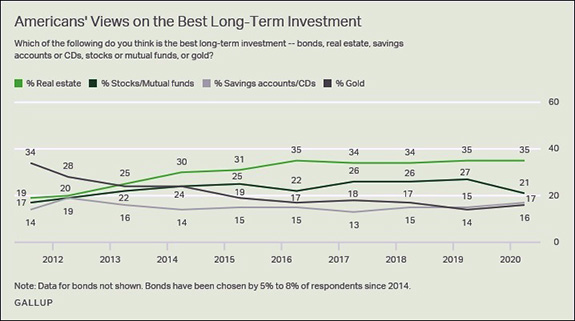 Happy New Year's Eve 2020 and welcome to a correctly skeptical America when it comes to Wall Street.
Despite the President of the United States using his bully pulpit for the past four years to tell Americans how great the stock market is (see here, here and here, for example) Gallup polling shows that U.S. adults have consistently favored real estate as the better long-term investment over stocks. (See chart above.)
In fact, in the April 1-14 poll that Gallup conducted this year, stocks reached their lowest score versus real estate since 2012. In the spring poll, which followed the sharp stock market selloff in March, 35 percent of adults rated real estate the better long-term investment versus 21 percent who voted for stocks.
Continue Reading at WallStreetOnParade.com…