by Charles Hugh Smith
Of Two Minds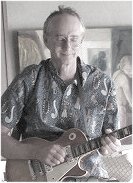 Freeing ourselves of unwanted/unneeded gift-giving is not just heresy in a debt-funded consumerist economy–it is tantamount to treason.
Did you see the new "gotta-have" coffee-pod flavors this Christmas? Crayfish, Spanish Moss, Pumpkin Spicy Radish and Jungle Rot. Yowza, it doesn't get any better than this….
Future archeologists will marvel not just at the enormous quantity of stuff left by our late-oil-boom frenzy of consumption but by the peculiar concentrations of never-used stuff in closets, basements and strange (possibly religious in nature) immense structures comprised of endless rows of small rooms crammed to the ceiling with stuff without any apparent utility or value.
When can we finally admit that Christmas gift-giving no longer serves any purpose other than the purchase of vast quantities of stuff nobody wants or needs? Generations ago, before everyone could buy whatever they wanted on credit, Christmas was the one time when some portion of the savings that had been painfully accumulated by sacrifice would be doled out for small gifts, typically a consumable treat, modest toys for children or a necessity.