by Pam Martens and Russ Martens
Wall Street on Parade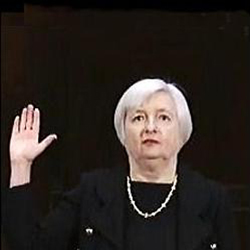 President-elect Joe Biden's nomination of Janet Yellen as Treasury Secretary is being viewed cautiously in some progressive circles. As the post-financial crisis Chair of the Federal Reserve under President Obama, Yellen had the opportunity to interpret the rules of the Dodd-Frank financial reform legislation in a manner that would rein in the risks of the mega banks on Wall Street. She failed in that regard while attempting to reassure a skeptical public that the Fed's stress tests on the banks were adequate to prevent another crisis.
Yellen famously stated at a London conference in 2017 the following: "Would I say there will never, ever be another financial crisis? You know probably that would be going too far, but I do think we are much safer, and I hope that it will not be in our lifetimes and I don't believe it will be."
Two and a half years later, beginning on September 17, 2019, the Fed was back to bailing out Wall Street – months before there was a case of COVID-19 anywhere in the world.
Continue Reading at WallStreetOnParade.com…