by Charles Hugh Smith
Of Two Minds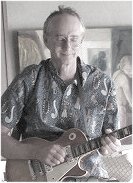 Extremes become more extreme right up until they reverse, a reversal no one believes possible here in the waning days of 2020.
The absolutely last thing anyone expects is a collapse of all the asset bubbles, i.e. a deflation of assets that reverses the full 20 years of bubble-utopia since 2000. The consensus is universal: assets will continue to loft ever higher, forever and ever, because the Fed has our back, i.e. central banks will create trillions out of thin air without any consequence other than assets lofting ever higher.
This research paper from the San Francisco Federal Reserve begs to differ. Here is an excerpt from Longer-Run Economic Consequences of Pandemics (San Francisco Federal Reserve)
"Measured by deviations in a benchmark economic statistic, the real natural rate of interest, these responses indicate that pandemics are followed by sustained periods–over multiple decades–with depressed investment opportunities, possibly due to excess capital per unit of surviving labor, and/or heightened desires to save, possibly due to an increase in precautionary saving or a rebuilding of depleted wealth. Either way, if the trends play out similarly in the wake of COVID-19 then the global economic trajectory will be very different than was expected only a few months ago."
Continue Reading at OfTwoMinds.com…