by Pam Martens and Russ Martens
Wall Street on Parade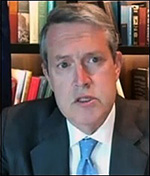 The U.S. Senate Banking Committee held a virtual hearing yesterday that was benignly titled "Oversight of Financial Regulators." It would be an understatement to say that there was nothing benign about the hearing. Fireworks went off throughout the hearing as Democratic Senators let it be known that they expected the crony relationship between the Fed and the Wall Street banks to be challenged by the incoming Biden administration.
Senator Sherrod Brown set the tone for the hearing with his opening remarks, telling the panel of Trump era federal banking regulators the following:
"We can get small businesses back on their feet. We can lift up the Black and brown communities that have been hit the hardest by this pandemic. We can keep people in their homes, make those homes more affordable, and bring down people's energy bills. We can lead the world in the fight against climate change and seize every opportunity to create good-paying jobs. We can free people from the stress of debt collectors and the downward spiral of payday lenders.
"And we can reorient our economy from wealth to work. To do all of that, we have to take on Wall Street power.
Later in his remarks, Brown said this:
Continue Reading at WallStreetOnParade.com…