In this interview, Luminex Resources CEO Marshall Koval and Senior VP Exploration Leo Hathaway provide a company update and explain why their massive Cascas gold-copper target so prospective. Luminex will begin drilling the Cascas project in late 2020 or early 2021. Marshall also shares an update on the company's 5M+ AuOz Condor project as well as its two joint-venture projects with BHP and Anglo-American. Marshall said that in H1 of 2021 Luminex should be producing drill results on up to four different projects.
Click Here to Listen to the Audio
Sign up (on the right side) for the free weekly newsletter.
1:15 Cascas gold-copper porphyry target
3:40 Preparing to drill Cascas
5:15 Condor 5M+ AuOz project update
6:43 Lumina Group exit strategy
7:44 Four projects with drill results in H2 2021
9:01 Tarqui and Pegasus A & B updates
10:19 Treasury and burn rate
https://luminexresources.com/ TSXV:LR OTC:LUMIF
TRANSCRIPT:
Bill: Today, we're going to be getting an update from Luminex Resources. I'm Bill Powers and this is Mining Stock Education. Thanks for tuning in. The ticker symbol in Toronto is LR. And on the OTC for United States investors, you can find it under the ticker LUMIF. Joining me today is Marshall Koval, he is the CEO, as well as Leo Hathaway, he's the Senior Vice President of Exploration. Gentlemen, welcome to the show. And Leo, I'd like to kick it over to you first. Could you break down for us, at your Cascas Project, you've identified this target. What is the prospectivity here that investors should know?
Leo: We have a gold and a copper target that we've been following up in Cascas. And recently, field crews discovered a creek bed with quartz vein stockworks and a lot of surface copper mineralization that was very exciting, looked like an outcropping porphyry copper deposit. So we zeroed in on that with sampling and mapping. We've currently defined a porphyry copper zone of a few hundred meters long in creek beds. The reason it's exciting, I think, is because this is a Jurassic porphyry belt that saw some attention in the 1990s and never really produced any very high-grade deposits. There's one mining production, Mirador and Ecuador, but recently there's been one discovery by Solaris that really signified that the belt might be capable of producing higher-grades. Solaris, as you probably saw, intersected 567 meters of 1% copper equivalent in the first drill hole. And Porvenir, being explored by SolGold, is also looking very promising. So when we discovered this deposit, we also see secondary copper mineralization, such as calcite, which is indicative of higher grade in deposits, a copper enrichment event. So all these things coming together really make us pretty excited about exploring this deposit. We've focused our field crews on it, and we hope to be drilling early next year.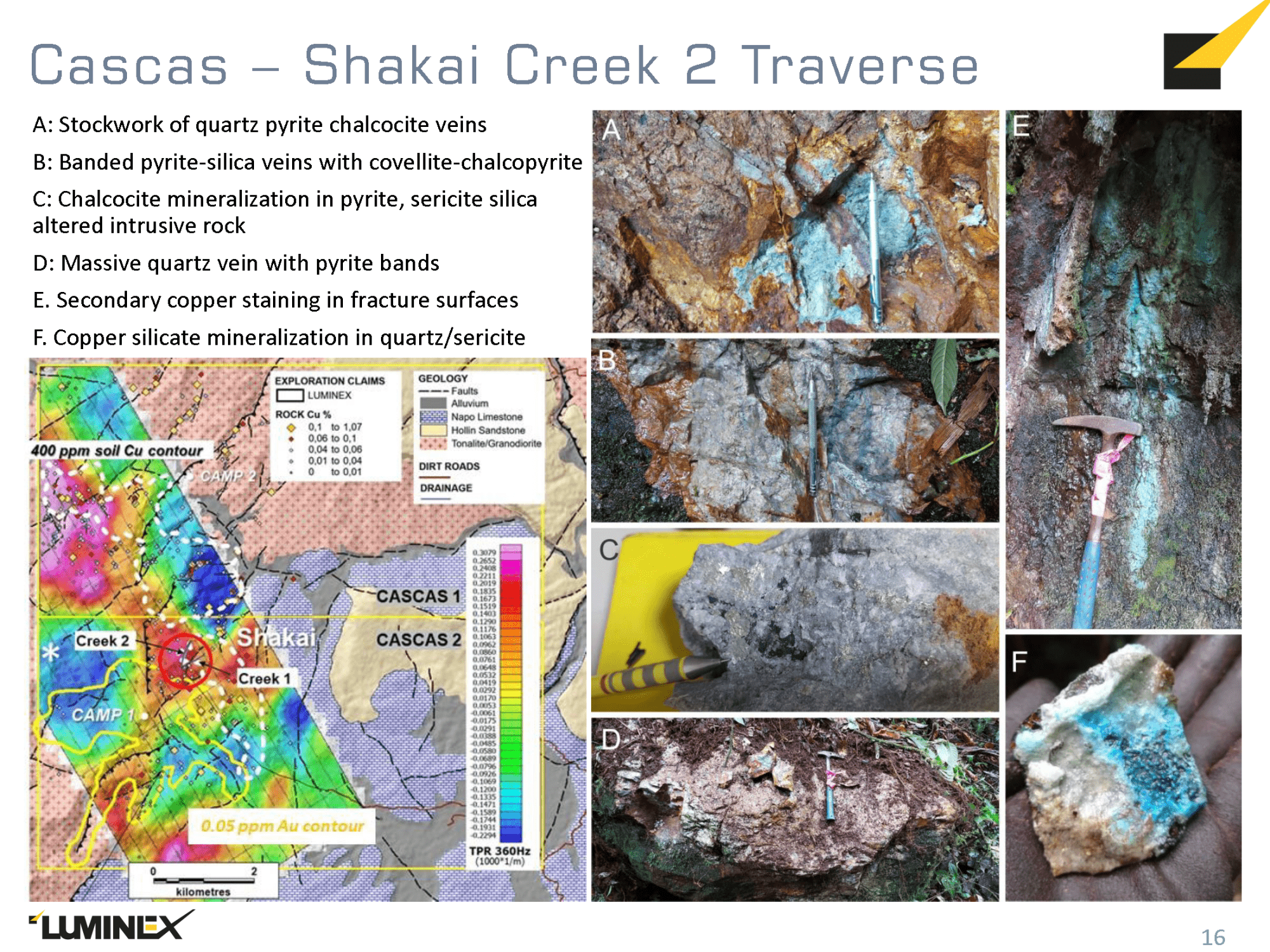 Bill: So let's talk about valuation. You mentioned Solaris, I believe it was two drill holes added about $200 million worth of market capitalization. I mentioned your market capitalization is $63 million. So what's the potential here for adding some market cap value if you're successful with the drill bit?
Leo: Well, we think there's great potential for that, given the Solaris experience. And where we're a different company, of course, we still have to drill the hole. But as I say, what that did indicate is that the belt is capable of producing higher grades than we've seen previously, so I think that would be a major value driver, if we drilled a hole like that.
Bill: And the press release said you're looking at drilling that in Q1 of next year. What are some of the steps that you need too, and milestones you need to get past, in order to put the drill bit in the ground?
Leo: Well, we'd like to define it. We'd like to just make sure when the best bit of the system. I take a pretty simple view of geology, and we've got quartz vein stockworks and big green outcrops in creek beds, so we'd be… set the drill up there, but we just want to dig around and take more samples and make sure we're in the best fit. We don't really see the need to do any geophysics, since we've got it right at surface. So we'll do field work and just progress with various logistical steps to get the drills there.
Bill: And you're in the process of building the camp. I believe last time we talked about two months ago, that camp, is it finalized or are you still in the process there?
Leo: We have a camp. We just need to add a little bit to make it into a drill camp, but all of these are simple steps.
Bill: Marshall, you also had a press release since we last spoke on the Condor Project. Could you give us an update on what's going on at the Condor Project?
Marshall: Yeah, let me add one more thing on Cascas. The gold anomaly, don't overlook that. It's a significant gold anomaly adjacent to this copper anomaly. But overall, the whole Cascas copper anomaly that we see, on concessions Cascas 1 and 2, has about a seven kilometer length to it, and about two-kilometer-wide to three-kilometer-wide soil expression. And then, the gold anomaly is a couple of kilometers wide. So we're going to look at the copper and gold, both, on that project, so I don't want to undersell the gold.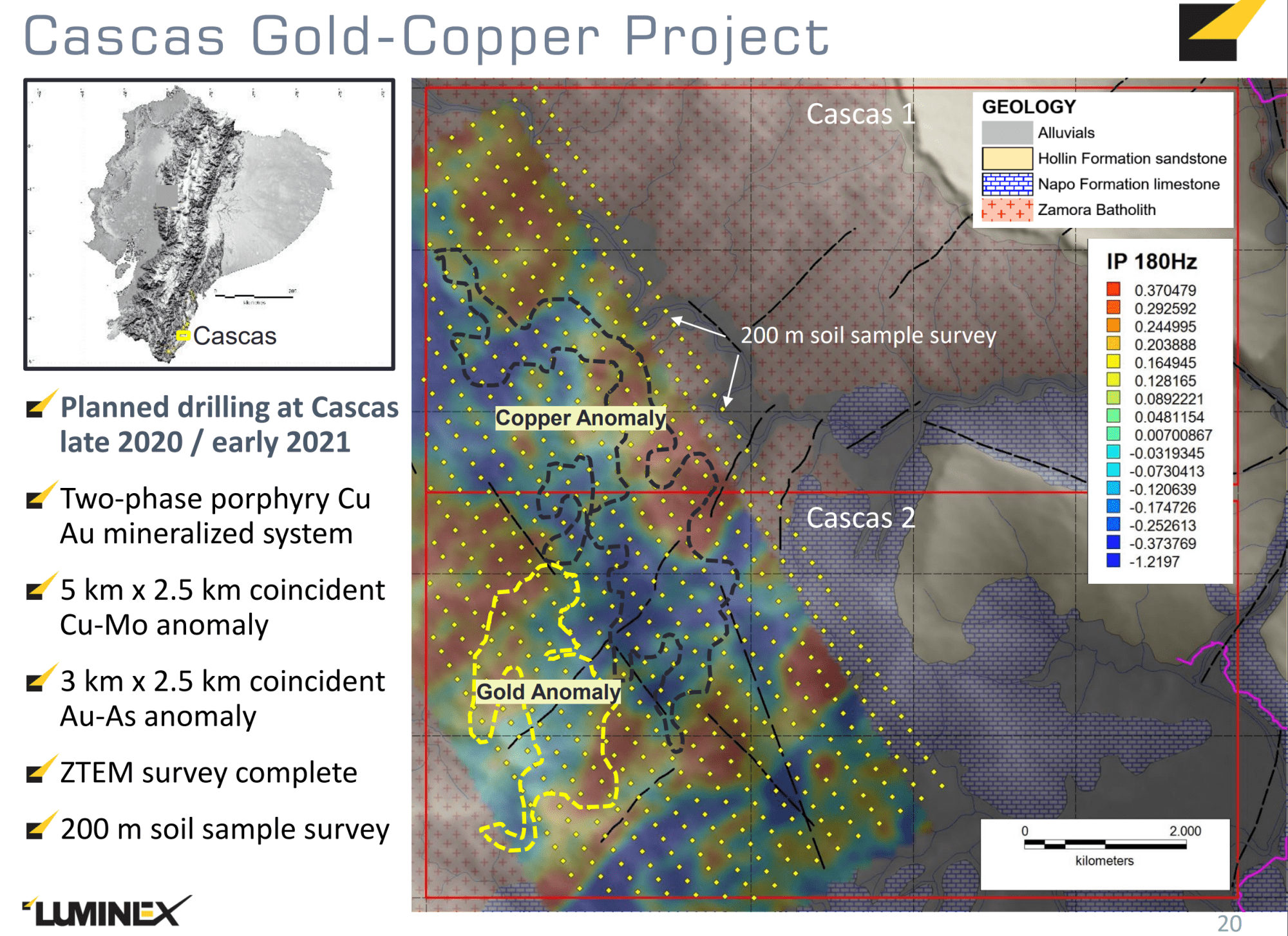 Over to Condor, we have about 5.2 million ounces within the property at Condor, and that's split into two areas. There's about 1.6 million of that is indicated in the balances inferred. And the two areas are the northern epithermal area and then the Santa Barbara gold-copper porphyry, a bit like our Cangrejos Project and Lumina Gold, similar-type mineralization. So what we've been doing is we announced this camp zone discovery, where we have roughly 1.1 million ounces of gold equivalent at about 3 grams per ton, gold equivalent.
And we're in the process now of defining and trying to scope a project, to move forward with a PEA. We've done metallurgy on it, quite a bit of metallurgy. We're looking at the infrastructure layouts, potential mine plans, and just trying to get to the point where we think we have a project that we can move successfully forward with a PEA. It's got both open pit and underground targets. The camp zone is an underground target, and we're looking at that at $1,500 gold. And the other areas, Los Cuyes, Soledad and Enma, are open pit targets. And we did some previous work where we looked at $1,250 gold. So, we're in the process of just getting comfortable internally. And then I hope before the end of the year to take that to the board, to make a decision on moving forward with a PEA.
Bill: Excellent. And with the Lumina Group, just a little bit about the philosophy, the goal is to discover and then define a deposit and then to sell a deposit. At what stage do you typically sell the deposit, at the PEA stage or the feasibility stage?
Marshall: Yeah, that's a good question, Bill. So if I look back at the Lumina copper story that both Leo and I were involved in from 2004, Northern Peru Copper, we sold at a PFS level. Relincho, we sold while we were working on a PEA. And then, Taca Taca, we completed a PEA and we were doing pre-feas-level work on high-risk areas that we had identified. So really, you can sell these projects pretty much at any phase. But what we like to do, like in the Lumina Gold story is, before we even thought about selling the project, we wanted to understand the scale of it, the magnitude, what potential you could bring into a PEA, and understand the value proposition.
So, we're moving that direction on Condor. I think if you look at BHP at Tarqui and Anglo American at Pegasus, and then the work that Leo was just talking about at Cascas, you got the opportunity that early next… well, sometime in the first half next year, let's say, we could have four projects where we have drill results. So driving those drill results and understanding that fits into the business plan.
So if you look at the company, overall Luminex with Condor is moving down the development pathway. And then if you look at the BHP, Anglo, Cascas, and some of the other concessions, those are earlier-stage discovery projects. And those are primarily copper, Cascas obviously has some gold. So that's how we look at the company, and we've set it up that we can spin off any particular assets. Say, BHP has a big hit at Tarqui, make a major discovery there; we know there's a copper porphyry system. We can spin that out into a standalone company. And that's how we structured the Lumina Group historically, is we never get to fall too in love with our projects, where we wouldn't add value for shareholders and provide a good exit. So, that's the business plan here.
Bill: Is there any information that you've received back from Anglo or BHP on those projects that you can share with the market?
Marshall: Well, in our deck, if you go to that, there's been quite a bit of work. So, two different-type targets. BHP is a smaller, higher-grade discovery that we made, similar to Cascas, where you have plus 1% copper at the surface. And basically, they've done geophysics work, a lot of geology work, and it's drill ready. And I think if we hadn't had COVID, they would have been drilling quite a while ago. Whereas Anglo's approach is more at a district scale, and they've spent about $10 million with geology geophysics, and they've come up with drill targets. In our deck, you'll see the Medusa target, which they have discovered. And basically, they've got eight clustered porphyry deposits.
So any one of these copper shows could be a large target. I mean, we could generate that sort of interest with the drill bit if we're successful. So we're really excited to get out there and drill these things, and obviously, BHP and Anglo are as well. And Cascas, for us, and then continuing to work at Condor is where we see the company moving forward. So, once we move through the COVID era a little bit more, we get we're going to get the drills turning.
Bill: So you're trading at about your valuation of your last financing about four months ago, around $0.70 Canadian. So there's an opportunity to buy shares about 30%, 40% cheaper than you could in August. How much money do you have in the bank and how far will that take you into next year?
Marshall: Yeah, we have about $12 million Canadian right now. I think at the end of June, we were up at around $15 million. So we've got drills going at Condor and we're doing the prep work to start drilling at Cascas, so we'll get pretty far into next year with the funds that we have right now. So the big focus is going to be, get some drill results going. Advancing Condor, hopefully to make a decision to move forward with the PEA, that would probably be done mid-next year, once we have board approval. So, those are the main catalysts and drivers.
And copper, right now, has come back quite a bit. It's up over $3. I think it's about $3.15 today. So we're starting to see some life in the copper markets. I'm real excited about potential discovery with our copper portfolio.