Fury Gold Mines (Ticker: FURY) CEO Michael Timmins explains how the company plans to double its share price by the end of Q1 2021. Michael stated, "So I think you're going to see a correction, so that we'd go up and start trading in line with our peer group. So in my view, that's C$2.25-$2.50. Maybe even up into C$3 is really where we should be trading from a NAV and certainly from market-price perspective on a Canadian basis. And then, as we get active and everything else, we get drill results coming in mid-January, February, our goal exiting Q1 is to have that superior performance per share 3.00, 3.50, $4.00."
Michael details both the targeting philosophy and drill program at Fury's Eau Claire high-grade gold project in Quebec (1.3M AuOz at >6g/t). Furthermore, he also lays out the plan for the next 18+ months and the steady flow of catalysts that investors can expect.
Click Here to Listen to the Audio
Sign up (on the right side) for the free weekly newsletter.
TRANSCRIPT:
Bill Powers: Thank you for tuning into Mining Stock Education. I'm your host Bill Powers. And we are going to be getting an update from Fury Gold Mines (Ticker: FURY), one of our sponsors and a company in which I own shares, which I purchased in the open market. We're going to be speaking with Michael Timmins. He's the president, CEO, and director. Fury is fully financed with over $20 million in the bank, and they have planned over the next 18-plus months, over 80,000 meters of drilling. 50,000m of that is going to be at the flagship Eau Claire project, which was acquired via Auryn's acquisition of Eastmain, if you recall. We're not going to get into all those details, since they're behind us. But basically, Fury is a development/exploration company in Canada, focusing in Canada with three projects. And we're going to focus on today's interview on the Eau Claire project.
So Michael, welcome onto the program. And before we talk about the projects, perhaps we could talk about the share price action. I'm a shareholder. And after the transaction with Eastmain was finalized, many of my friends bought the stock, because we feature it. And I got a lot of text messages saying, "Bill, what's going on with the share price?" So rather than me providing my explanation, as the CEO, could you talk to us about the last 30 days of share price action in the Fury Gold Mines stock?
Mike Timmins: Sure, Bill, thank you. And happy to be here. Always enjoy the discussion. Value, we're not happy with where we're trading. We didn't anticipate a few things. We didn't anticipate the amount of selling there would be, particularly from the Eastmain shareholders coming into the deal. You also have the dynamic of a lot of the Auryn shareholders holding Auryn for the Peruvian projects, which is legitimate. And it really speaks to the whole strategy of why Auryn wanted to separate the Canadian assets and the Peruvian assets. So we expected some chop, certainly, out. The US election, and gold being volatile over that period too, it didn't really help us. We had some great gold days, and we had some pretty punishing gold days.
But I think we're seeing a lot of the base build now. Our share structure and our ownership group gets better and better as we go. I'm a shareholder. We have a lot in our insider group is obviously buying on this temporary weakness. I think you're going to start to see as we get active, you're going to see the quality is going to come through of the asset. And don't forget too, we're going through the transition of let me tell you how good this is, to let us demonstrate how good this is. And that happens with drilling, and that happens with getting active, and that happens with results.
So I think you're going to see a correction, so that we'd go up and start trading in line with our peer group. So in my view, that's C$2.25-$2.50. Maybe even up into C$3 is really where we should be trading from a NAV and certainly from market-price perspective on a Canadian basis. And then, as we get active and everything else, we get drill results coming in mid-January, February, our goal exiting Q1 is to have that superior performance per share 3.00, 3.50, $4.00. I mean, that would be my goal. It makes sense to me as gold, just from the seasonality of doing well in Q4, entering into Christmas and certainly coming out of the gate in January.
Bill: So the stock does trade under the ticker FURY both on the NYSE American for American investors and in Toronto. So you were referencing the Canadian share price, is that correct?
Mike: That's correct.
Bill: Okay. And there were some recent price targets from analysts. Talk to us about what the analysts are seeing, please.
Mike: The analysts, they're certainly seeing value. As you know, the analysts, look at each project and they do their own corporate build up of value. Some analysts value kind of what you see now, and they're more of a, "Show me and then they'll change my price target." Other analysts do factor in some growth, and they typically factor growth around where you're being active. So it's probably more growth at Eau Claire. We have four analysts covering right now that came out the first week of trading, so it's a resumption of coverage, which was great support for us. The average analyst target price right now is around $3.70 Canadian. And there's one broker that provides us a lot of support here in Toronto that actually has a buy target of $5 Canadian. So my own personal goals of coming out of Q1 at $3.50 is obviously well under that target. And again, I'm conservative by nature.
Bill: And a key, of course, to achieving that share price would be being successful in the drill program that you have going at Eau Claire. It's permitted. You have one drill rig already there, another on the way is what I understand from reading the press releases. Can you talk to us about what's going on here? And how about start by talking about your targeting philosophy? You're taking over an asset from Eastmain, which had that asset for quite some time. What is the unique targeting philosophy that you're bringing to this project?
Mike: Bill, it's all about scale. When you're really looking to build a mine, the vision for Fury is to be pouring gold by 2025. That's the vision we use, and I think it's sufficiently aggressive to keep shareholders excited and to keep the internal team pushing and advancing assets. If we're going to do that, we obviously need to build a mine. The goal starts with Eau Claire and starts with bringing it to a 200,000 ounce per year producer. So in order to do that, we have to grow it. So 200,000 ounces per year times 10, divided by the mill recovery divided by the mine recovery. And so that's about 2.5 million ounces in the ground. So we have to go from 1.3 to 2.5, and we're going to do that with drilling.
So the targeting philosophy really takes two things into account. It takes into account scale. And as you can see in the last press release, we have some pretty aggressive steps outs. We're stepping on a kilometer, targets A, B, and C that are out 200, 400, and 600 meters from the eastern margin of the deposit. And then we're looking for that continuation of quality. Now, it's per vertical meter, which is obviously robust at top of the mine. Will that continue at depth? And then we want to look to see if we can increase overall grade. So that is basically the goal and the objectives of the target. But of course, you need to build up your targets, so that started this summer with geophysics gradient array IP. We discovered quite a nice magnetic survey that hadn't previously been utilized. So all that's factoring basically into the matrix. And we're finding out Eau Claire, from a scale perspective and from a grade perspective, is simply just getting better and better.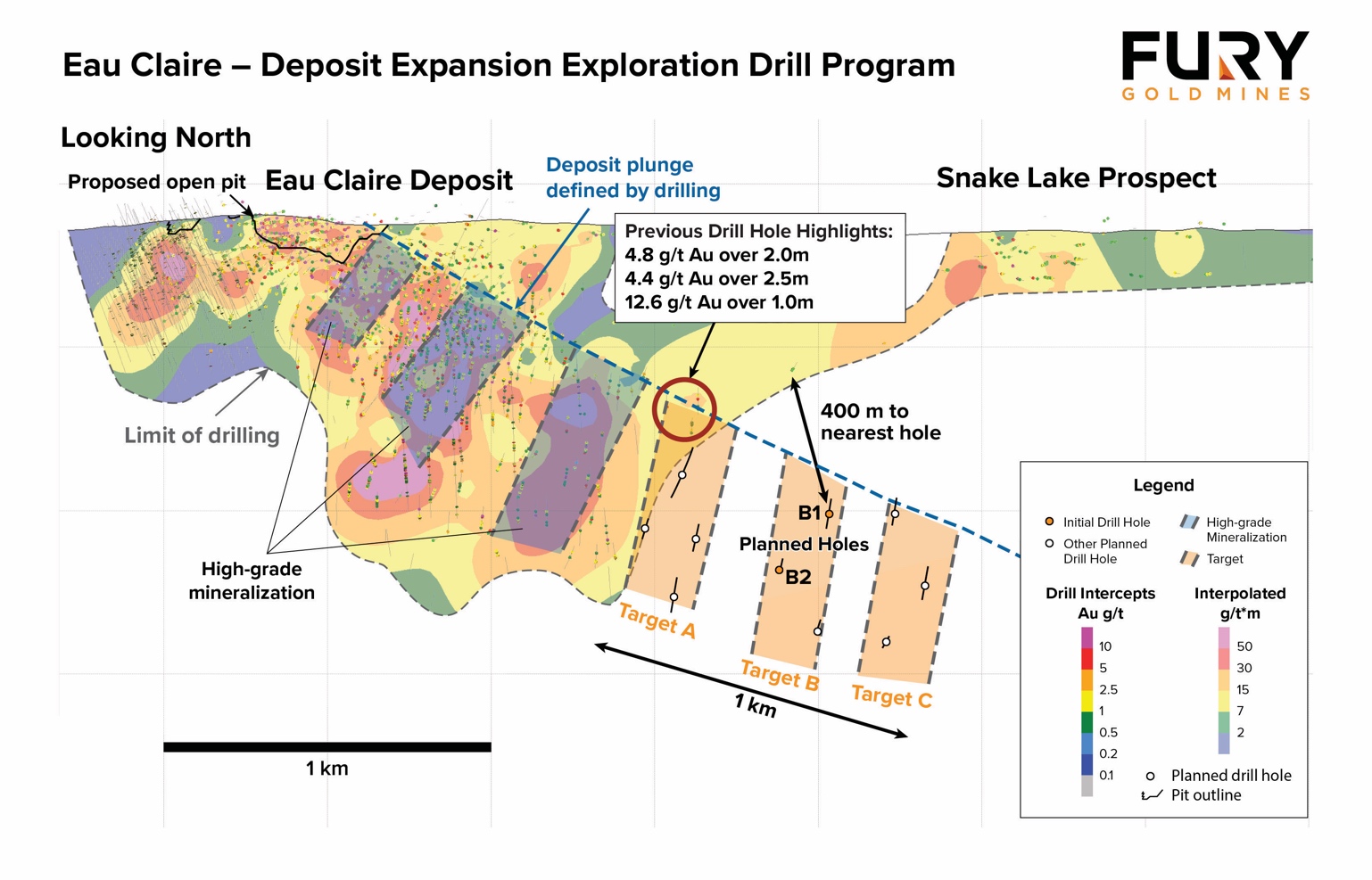 Bill: You're going to be doing both infill and step-out holes. Talk to us about your infill program. And what's the goal here?
Mike: That's right. So the 50,000 meters is split. There'll be some select infill, and then the rest of it will be expansion and aggressive step-outs that we had talked about. The bottom of the Eau Claire deposits, certainly the bottom and eastern margin, is an area of elevated grade. So that area of the mine, there's around 200,000 ounces at 12 grams per ton, not the 6.4 grams per ton in the PEA. And certainly not the 8.2 grams overall, which it is right now at three and a half grams per ton. So we're going to put some big meterage around that part, and hopefully we can expand it. Hopefully, we can add ounces actually with an infill program, which is always a good thing to do. And then statistically, I think it will be significant. I think we'll be able to increase the overall grade of the resource.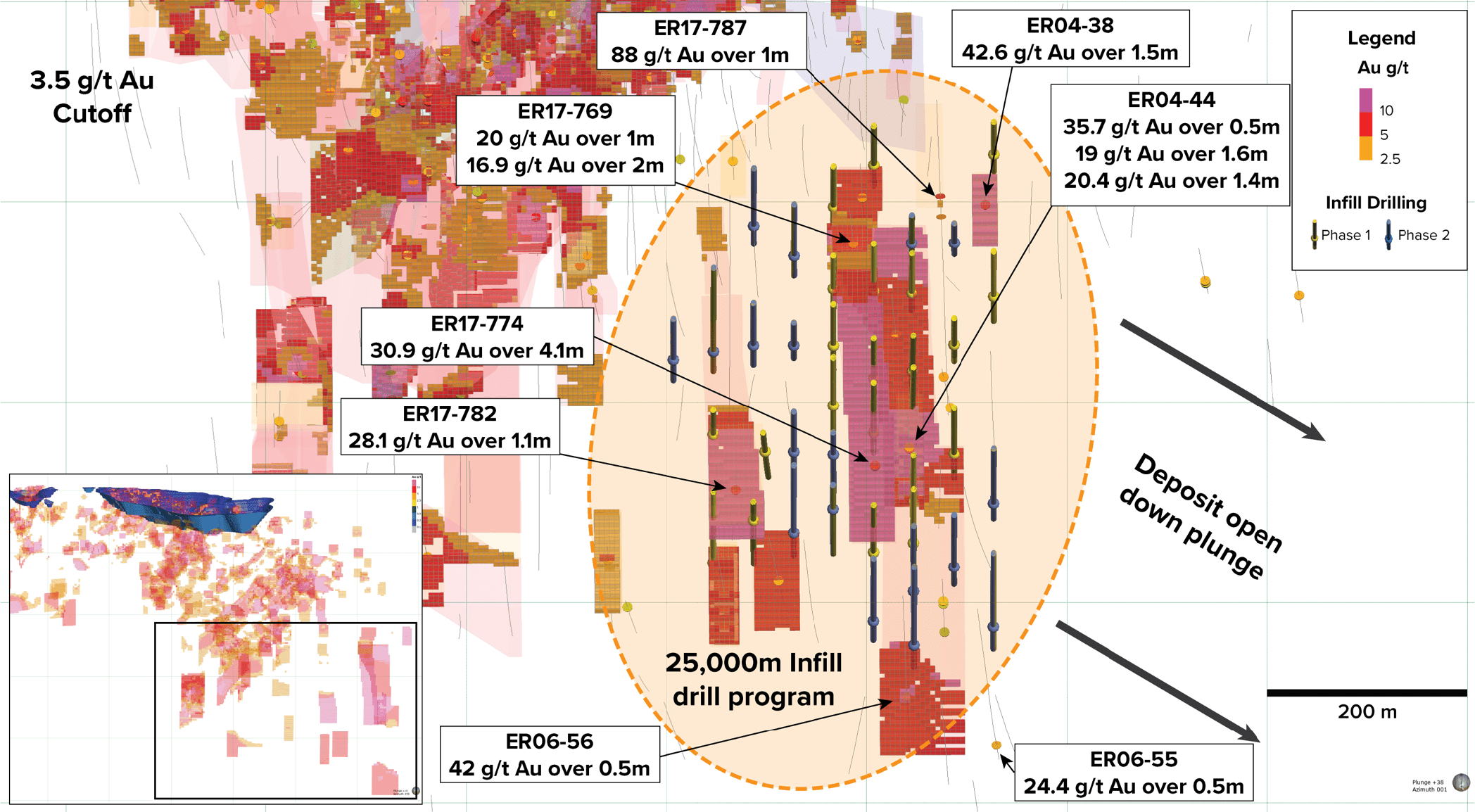 Bill: And the step-out holes, you have three main targets. And as you kind of articulated already, the goal would be to, hopefully, begin to double the resource?
Mike: These step-outs are what we call time value drilling. So the sooner we know how big Eau Claire can get, the sooner we can plan our design, put into plan how we're going to approach the production scenario. And the sooner we can bring those cash flows that are floating in time closer to us. So there's value in being aggressive early. You're going to see us go under the theme, "bigger, sooner," as we do that. So if we're successful with this program, targets A, B, and C, it really provides some bookends, in between which we can safely say that we will probably be able to build out the two to two and a half million ounces that we want. But of course, we're going to need, two, three, four years of infill to increase the category and put it all into place. But from a gold perspective, if there's gold a kilometer away and 1.2 kilometers down plunge, there's likely to be some continuity there. Certainly the structural situation suggests just that. So that's basically the approach for us.
Bill: Your recent press release has indicated that you're not just looking at potential expansion that you just said, but you're basically viewing this as a seven-kilometer trend in which you might be able to find more satellite deposits. Could you elaborate on this please?
Mike: So the first step really at any project is to fingerprint what you have. So we know there's high-grade gold at Eau Claire. We know that it's structurally controlled, and we know that we want to build a mine. And so within the five, seven, ten kilometer near-mine trend, can we go there and find any repeating structural patterns? Eau Claire has the very attractive feature of having the first few years open-pit, so it's going to be a high-grade open-pit probably for the first three years of production. And so what you do is you use geophysics to look out and try to find repeating structural patterns. That's certainly what we've done, as we've completed the gradient array IP.
So very soon we will be updating the corporate presentation, and that's probably a press release to come out, to really talk about these other structures as we go. So we have gold at the deposit, obviously. We have gold and targets starting to develop on the seven kilometer deposit trend or mine trend. As soon as we start to be successful, I'm going to be starting to call it the mining trend. But then when you go out and you look regionally, we have over 50 kilometers of productive systems to test. To the north, we're calling it the north trend that has the same gold in quartz-tourmaline veining at surface that Eau Claire has that hasn't been followed up. There's the entire eastern Lac Clarkie block that has a number of different shear zones and regional shear zones that we certainly have to go past. But it gets us excited when we see gold at all levels. We see it at the deposit level and expansion. We see more opportunities to add ounces into a potential mining scenario in Eau Claire along the deposit trend. And then we have a large regional land position with different styles of gold, different geological settings, and different modes. So it's really exciting and really goes to support our long-term goals.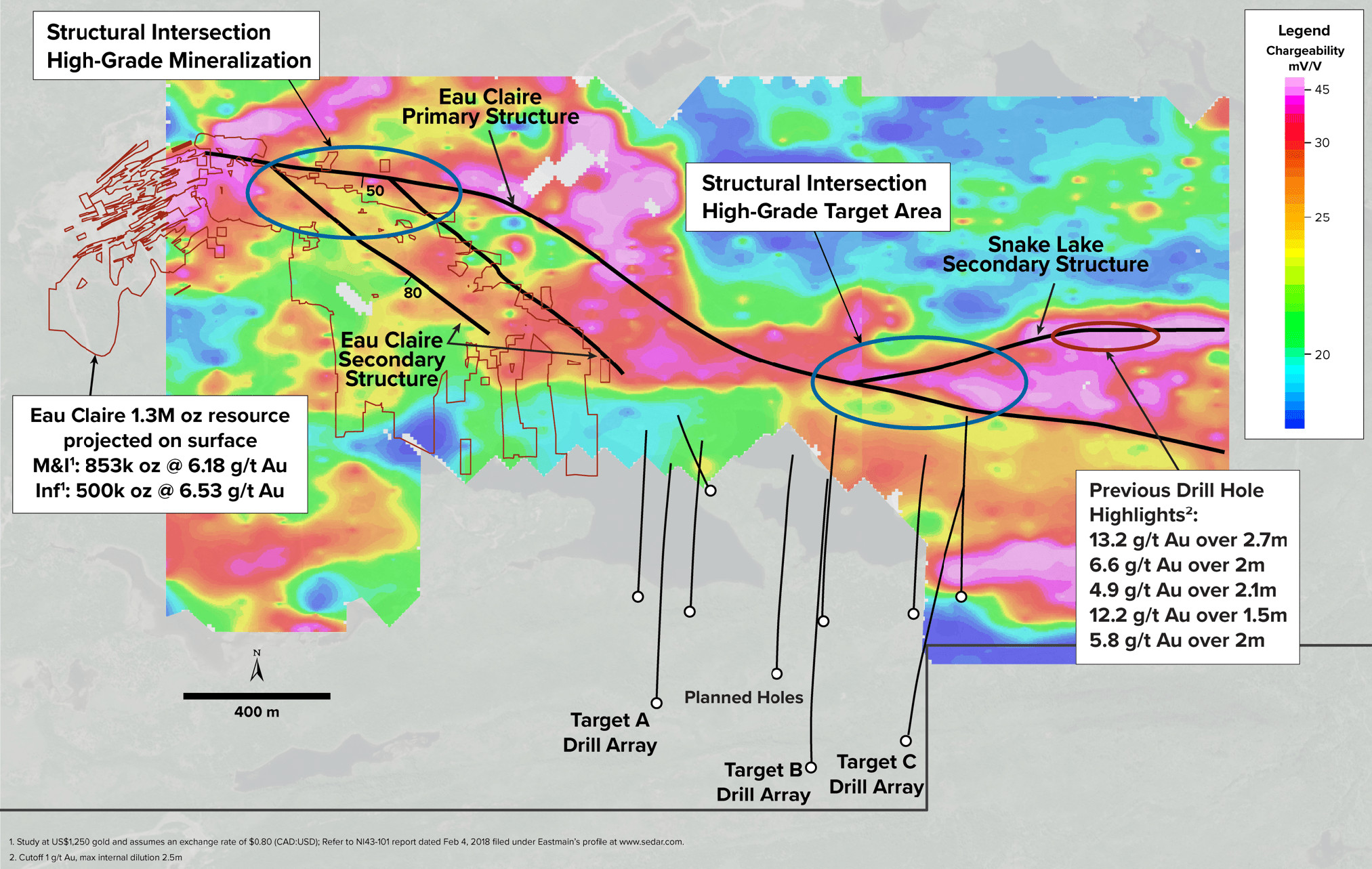 Bill: So for the future, all this targeting you're doing, the future drilling of this 50,000 meters that you've committed to Eau Claire, it's still being determined exactly where you're going to put the drill over the next 12 months, basically with this targeting?
Mike: This targeting is Eau Claire, and pretty much Eau Claire only. I think we're going to reserve 10 to 15 thousand meters to test some of the seven kilometer deposit trend targets. The regional land position, and some of that work, will be next summer, because we're starting from first principles. I mean, if it's a science-based approach, then it's good, solid geochem. We got to make sure that our geophysics library is complete. So I mean, there's some grassroots stuff to do regionally. So this drill and basically our funding at the moment is going to be poured into Eau Claire, really to convert on our acquisition thesis.
Bill: Regarding the timing of these drill results coming back, how far back are the assay labs backed up? When can investors expect these results?
Mike: The assay labs are backed up. They were backed up before, and now with COVID, it's a lot of personnel issues there. They're just getting rolling. I think Quebec seems to be in a bit of a better situation, from what the guys tell me, than some other jurisdictions in Canada or in the US. So what we commenced drilling on this past Saturday. We expect results to come in kind of mid-January. We're obviously going to put a rush on it. If we get something by Christmas, I think it would be a miracle. It would be a Christmas miracle. But certainly, I think it's safe to say, mid to end January. I think just in time for our big Q1 marketing push. Gold always does well in January. You have the big funds kind of resetting where they're going to be investing for 2021, and it's an exciting part of the year.
Bill: Is there anything else investors should be looking for from Homestake Ridge or Committee Bay in the near term?
Mike: I think you should be looking out and focusing on some of the context and backdrop that we're slowly starting to put out to get investors set for what we're going to be doing next summer at both of those projects. So we put some news out a few weeks ago on the Committee Bay targets, so there's going to be more news coming out on those. What we're really trying to do is paint a picture within the new context of Fury. So we'll put the background first. We'll start to talk a bit more about the fingerprinting of the Three Bluffs high-grade up at Committee Bay, what that means for targeting. We want to zoom people back into Three Bluffs. We have 1.2 million ounces there. It's probably going to go to two and a half million ounces.
And as you know up in Nunavut, you need to have at least five to seven million ounces at good grade for you to go out and actually say that you have something to develop. It's a challenging region, but it's not an exotic region. So I think we've got to build the out-space. And we're really going out there with probably the most impactful program that we're going to have ever, certainly at that project. And we're looking for a big, big discovery. And that was part of the design of Fury, put these assets together. We have two development assets, as you said, Bill. And we have Committee Bay, which really provides our owners with that sizzle of owning a mining stock. If we put two holes through the next mine up there, the value of Committee Bay could eclipse Eau Claire. I mean, that's how excited investors have been in the past about the prospects of Committee Bay.
Homestake I would say is a bit of an interesting one. In Auryn, it was signaled as being for sale, which made a lot of sense. They could sell something that wasn't at the development stage to fund more of their exploration. But in Fury, Homestake has as a nice home tucked in behind the Eau Claire as our lead asset. And it's really a return to exploration. So people can expect by the end of this month to get some news out on what we're thinking with respect to targeting, give people a bit of a reintroduction from, in my mind and from my perspective, what is Homestake and what we want to do with it. I think we want to increase the ounce profile of that project, and we need to chase a lot of the high grade that hasn't been followed up yet.
Bill: So beginning next summer, there'll be three projects to report drill results on. Am I understanding you correctly?
Mike: That's correct. And that was by design. I mean, again, back to the point of being active to drive share price, we're going to sequence all of our activities, so we're constantly having news out with respect to exploration results, commencement of drilling, updates on some of those more catalytic milestones, like resource updates and engineering studies, and things like that, as we go through time. And so in the winter months, you're going to see a lot of elevated activity certainly in Quebec at Eau Clare. And then, it goes into it's summer field season. And then, in the late spring/summer, you're going to see a lot of workup at Committee Bay and in BC. So those will be our summer projects with respect to drilling and drill results. In the winter, it'll be Eau Claire.