by Pam Martens and Russ Martens
Wall Street on Parade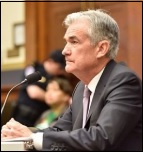 The United States is experiencing the worst pandemic since 1918. The U.S. economy is experiencing the worst economic crisis since the Great Depression of the 1930s. And the general public is attempting to vote in the most important presidential election of a lifetime with obstacles like fake ballot boxes, 5-hour wait lines, and destroyed mail-sorting machines. What is the central bank of the United States, the Federal Reserve, doing with its free time at this critical moment? It's rewriting its rules for responding to Freedom of Information Act (FOIA) requests from the public and media.
After revising the Fed's own FOIA rules earlier this year, the Fed is now rewriting the FOIA rules for the Federal Open Market Committee (FOMC). That just happens to be the entity in charge of sluicing that cumulative $9 trillion to trading houses on Wall Street from September 17, 2019 through March of this year. The Fed has yet to release one detail about what specific trading houses got the money and how much each got. But the Fed is very likely contemplating the day that it is sued for that information or Congress or the courts issue subpoenas.
Continue Reading at WallStreetOnParade.com…