by Pam Martens and Russ Martens
Wall Street on Parade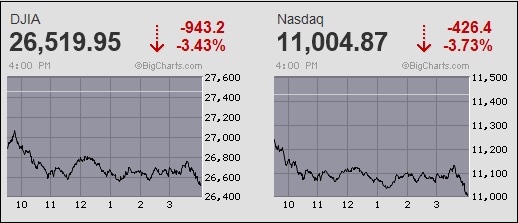 On Monday the Dow Jones Industrial Average closed down 650 points. On Tuesday, the Dow lost another 222 points. Yesterday, the Dow closed near the lows of the day, plunging 943 points by the closing bell. The pain was broad-based with only one of the Dow's 30 component stocks closing in the green: that was The Travelers Companies, a property and casualty insurer.
Market sentiment has turned bearish in no small part because of the unrelenting pandemic, the lack of a new stimulus bill from Congress, and the selloff in oil. All three are interrelated. As of 7:40 a.m. this morning, West Texas Intermediate (the U.S. domestic crude) was trading at $35.90, down 4 percent on the day and down 10 percent from its $40 handle last week.
The price of oil is a heavy influencer of market sentiment for the following reasons. First, it's a barometer of the prospects for economic growth. If consumers are spending then factories are humming and using more energy.
Continue Reading at WallStreetOnParade.com…