by Joel B. Pollak
Breitbart.com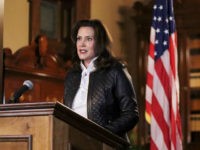 Former Vice President Joe Biden blamed President Donald Trump on Thursday for a foiled kidnapping plot by a group of extremists who intended to abduct Michigan Governor Gretchen Whitmer.
The FBI arrested six named alleged co-conspirators and seven others on Thursday morning for conspiring to kidnap the governor.
Though it did not name a specific political ideology, the FBI's criminal complaint alleges that the members of the group "talked about creating a society that followed the U.S. Bill of Rights and where they could be self-sufficient." Two apparently met at a Second Amendment rally.
One member of the group, Brandon Caserta, was seen in an online video in front of an anarchist flag.