by Charles Hugh Smith
Of Two Minds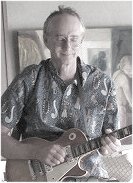 The status quo is about to discover that it can't stop the hard rain or protect its fragile sandcastles.
You'll recognize A Hard Rain Is Going to Fall as a cleaned-up rendition of Bob Dylan's classic "A Hard Rain's a-Gonna Fall". Since the world had just avoided a nuclear conflict in the Cuban Missile Crisis, commentators reckoned Dylan was referencing a nuclear rain. But he denied this connection in a radio interview, stating: "…it's just a hard rain. It isn't the fallout rain. I mean some sort of end that's just gotta happen…." ( Source)
Which brings us to the present and America's dependence on the sandcastles of monopoly, corruption, free money and a two-tier legal/political system. You know, BAU–business as usual. A hard rain's a-gonna fall on these sand castles because, well, the end of unsustainable stuff has just gotta happen, as the man said.
Here's the problem with monopoly, corruption, free money and a two-tier legal/political system: they impoverish and diminish everyone who isn't an insider or in the top 10% Protected Class, as these are institutionalized forms of legalized looting: monopolies and cartels raise costs by smothering competition, corruption is a hidden tax on everyone not at the feeding trough, free money devalues the dollar, robbing everyone forced to use it, and a two-tier legal system enriches the few (corporate criminals never go to prison) and undermines the social contract via blatant unfairness and lack of justice.