by John W. Whitehead
The Rutherford Institute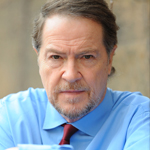 "There was of course no way of knowing whether you were being watched at any given moment. How often, or on what system, the Thought Police plugged in on any individual wire was guesswork. It was even conceivable that they watched everybody all the time. But at any rate they could plug in your wire whenever they wanted to. You had to live—did live, from habit that became instinct—in the assumption that every sound you made was overheard, and, except in darkness, every movement scrutinized." – George Orwell, 1984
Once upon a time in America, parents breathed a sigh of relief when their kids went back to school after a summer's hiatus, content in the knowledge that for a good portion of the day, their kids would be gainfully occupied, out of harm's way, and out of trouble.
Back then, if you talked back to a teacher, or played a prank on a classmate, or just failed to do your homework, you might find yourself in detention or doing an extra writing assignment after school or suffering through a parent-teacher conference about your shortcomings.
Of course, that was before school shootings became a part of our national lexicon.
Continue Reading at Rutherford.org…