"Open up your state, Madam Governor, open up your state!" the president told a rally crowd
by Brie Stimson
FOX News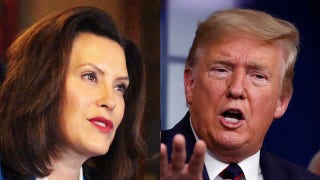 Michigan Gov. Gretchen Whitmer "doesn't have a clue" when it comes to the coronavirus and the economy, President Trump told a rally crowd in the Great Lake State on Thursday — just hours after the Democrat blasted the president during a news briefing.
"Michigan has already gained and regained more than half of the jobs that it lost — and if your state was ever allowed to safely reopen by your governor, who doesn't have a clue, just like Joe [Biden], you would have gained far more than that," Trump said in Freeland, Saginaw County, according to FOX 2 in Detroit.
"Open up your state, Madam Governor, open up your state!"
Michigan would be better off if it "had a governor who knew what the hell she was doing," Trump added.
Trump described Whitmer as a "liberal hypocrite who lives by a different set of rules."
Continue Reading at FOXNews.com…